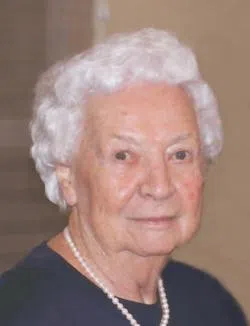 June M. (Zachow) Behnke died and was carried in the arms of our Lord to her heavenly home reuniting with her beloved husband on June 14, 2018.
June was born on June 10, 1926 in Waupun, WI to the late Arnold and Emma (Beversdorf) Zachow. She attended Shawano schools, graduating in 1944.  She met and married the love of her life, Robert A. "Bob" Behnke on September 3, 1949.  He preceded her in death on July 6, 2012.  June worked as a technician for Dr. Cantwell at Cantwell-Peterson Clinic.  She was an active member of St. James Lutheran Church in various capacities.  June treasured her time as a Brownie-Girl Scout Leader.  She was quite the bowler and found enjoyment in golfing, playing cards and crocheting.  Her greatest joy was the birth of her grandson, David, whom she loved with all her heart and was extremely proud of.  She cherished every moment she shared with him, especially baking cookies, making caramels or just spending time with him.
June is survived by: her daughter, Deb (Chris) Dorak; grandson, David (special friend, Jess Werbie) Dorak; special "daughter", Omia "Weezie" Knudsen; niece, Kate Mitchell; nephews, John (Tracy) Haupt and Tom (Kellie) Haupt.
She was preceded in death by: her husband; sister and brothers-in-law, Vera (Harvey) Mitchell and Ruth (Kenneth) Haupt; sister, Elenor; brother, Sonny; and nephews, Mike and Jim Mitchell.
A memorial service for June will be held at 11:00 am on Tuesday, June 19, 2018 at St. James Lutheran Church in Shawano with Rev. Dr. Timm Griffin officiating. Visitation will be held on Tuesday at the church from 9:00 am until the time of the services.  Memorials may be made in her name to St. James Lutheran School, Heartland Hospice of Green Bay, Shawano Humane Society or Navarino Nature Center.  Swedberg Funeral Home is assisting the family with the arrangements.
June was affectionately known as "June Bug" with the staff of the Cottages and Heartland Hospice. Thank you for the loving and compassionate care. 
Mom~
            You were the most loving, caring and inspiring mother, grandmother and friend that blessed our lives.  Your memory will live on in our hearts forever.