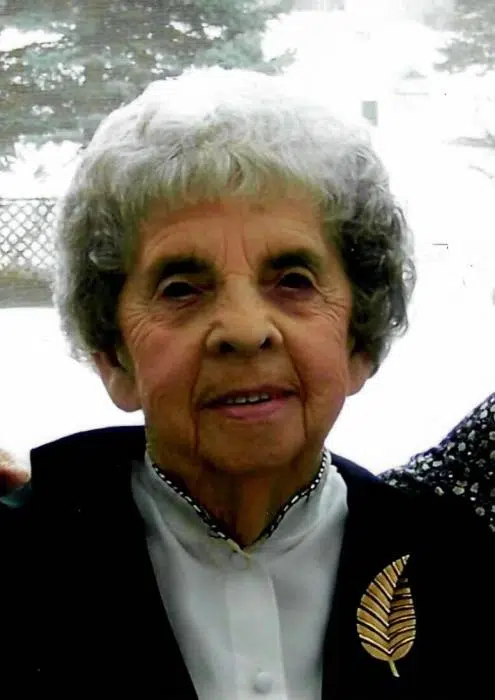 Helen A. Geiss, age 97, passed away peacefully at her home in Seymour, Wisconsin on June 14, 2018.  She is the daughter of the late Loren and Edna Banks.  She lived with her son, Loren LeBlanc and daughter-in-law, Helen Kent LeBlanc.
Helen was born Dec. 8, 1920 in the quiet seaside hamlet of Rossway, Digby County, Nova Scotia, Canada.  She married Herman LeBlanc in 1940 with whom she had three children; Loren A. LeBlanc, Myrna Jo Whitteaker (deceased) and Gloria J. Krause (Jim).
She married Robert Geiss in Reading, Pennsylvania in 1968.  She became mother to John Geiss (deceased) and Peter Geiss (Patti).  She was a loving Grandmother (Gram) to nine Grandchildren (one deceased; Mitch Krause) nineteen great Grandchildren and ten great great Grandchildren.
Helen was the fifth of ten siblings and is survived by sisters Clytie Foster in Hopkington, Massachusetts and Irene Sabean in Seffner, Florida.
Helen was a talented baker and birdwatcher. She was a true nature lover.  She was also a well-known Scrabble game wordsmith.  Helen was a devout Christian and an active member of Calvary Apostolic Church in Clintonville, Wisconsin.
The family would like to thank the Unity Hospice Team for the wonderful family guidance and care given to our Mother.  In lieu of flowers, donations can be sent to Unity Hospice Care 2366 Oak Ridge Circle, DePere, Wisconsin 54115.  (You may contact them at: 920-338-1111). Or you may send donations to the Calvary Apostolic Church 535 McKinley Ave, Clintonville, Wisconsin 54929.
Helen's memorial service will be Sunday, July 8 at 1:30pm.  Visitation will begin at 1:00pm.  Service to be held at Calvary Apostolic Church 535 McKinley Ave in Clintonville, Wisconsin.
The Eberhardt-Stevenson Funeral Home & Crematory, Clintonville, is assisting the family with the arrangements.
An online guestbook is available at eberhardtstevenson.com.