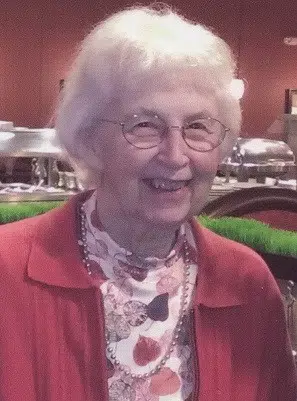 Virginia M. "Gin" Piehl, age 89 of the Township of Larrabee, passed away peacefully on Saturday, June 9, 2018 at Living Tree Estates in Greenville.
Virginia May Piehl was born September 28, 1928 in Clintonville, the daughter of the late Oscar & Adelia (Boelter) Niemuth. She attended Clintonville schools and graduated from CHS in 1945. While employed at the Clintonville Power and Light, Virginia met Donald Piehl; the couple was united in marriage at St. Martin Lutheran Church in Clintonville on July 11, 1950. Don and Virginia traveled to Steubenville, OH so he could attend Neon Sign School. They returned to Clintonville where he started his own business and she focused on making a loving home for her family; that included her priority for a nice, new home with a large yard for her children to have room to play. Donald & Virginia built the houses themselves; first a smaller one, then a larger permanent residence with plans to fix up the first house as a cottage. Virginia will be forever remembered for the love she held for her children, grandkids, and great-grandson. Virginia was talented at cooking, baking, and canning. She truly looked forward to having her family for holiday meals. Mom cherished picnics-in-the-park and times spent with her relation. Virginia was an avid seamstress with her interests ranging from quilts to teddy bears to tailored coats. As a young couple, she and her husband were members of the Clintonville Curling Club. Throughout her life she enjoyed watching sports and she loved all the family pets.
Left to mourn her loss and forever cherish her memory are:
Children:  Deann Piehl, Appleton; Jeff (Britt) Piehl, Marshall, WI; Shari Piehl, Appleton
Grandchildren:  Robert (Carley) Piehl, Michael (Stephanie) Piehl, Matthew Piehl, Abigail Rehberg
Great-grandchild:  Liam Piehl
Sister:  Betty Klarner, Black Creek, WI
Brother:  Roland (Melba) Niemuth, Richland, WA
Sisters-in-Law:  Diane Niemuth, Little Chute, WI; Barbara Niemuth
Also survived by numerous nieces and nephews.
Virginia was preceded in death by her parents, Oscar and Adelia (Boelter) Niemuth; husband, Donald Piehl; daughter, Patricia (Piehl) Rehberg; brothers, Don, Martin, and infant James; a sister, Shirley Stern; brothers-in-Law, Wayne Stern, Bernie Kitzinger, & Roy Klarner; brothers-in-law through marriage,  Louis Piehl, Leonard Piehl, Mike Piehl, Chester Piehl, Allen Piehl, Alvin Piehl, Wilbert Piehl, Stanley Piehl, Clarence Zellmer, & Albert Gripp; sisters-in-law, Sylvia Gripp, Myra Zellmer, Margaret Griffith, & Jeanette Schlomer; sisters-in-law through marriage, Frances Piehl, Moraine Piehl, Claudia Piehl, Virginia B. Piehl, & Lucille Piehl.
Memorial services will be held 11 AM, Saturday, June 16, 2018 at the Eberhardt-Stevenson Funeral Home & Crematory, Clintonville, with the Rev. Brian Weber officiating. Inurnment will take place at Graceland Cemetery, Clintonville.
Friends may call at the funeral home on Saturday from 10 AM until the time of the service.
In lieu of flowers, memorials in Virginia's name are preferred to the Humane Society.
Virginia's family wishes to thank her caregivers from Heartland Hospice (especially Bill, Tina, and Mary), Jackie and the staff at Living Tree Estates, BrightStar Care, Larsen-Winchester Lions' Club, and Sue Coyle, CMC.