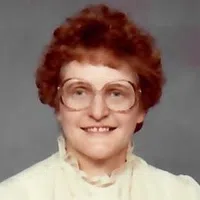 Eunice Mayer Sammartino, age 86, of Clintonville (formerly Marion) was welcomed into the portals of Heaven and into the loving arms of her Savior, Jesus Christ, on Monday, May 21, 2018 at Pine Manor Health Care Center, Embarrass.
Eunice was born on May 7, 1932 in Milwaukee to John and Augusta (Brunke) Mayer.  She blessed and mentored thousands of young people as a parochial, public school, and a college level educator in Providence, RI, Boston, MA, and throughout Wisconsin.  Eunice used her superb musical talent in many churches as an organist, pianist, and choir director, besides taught many students as a private music teacher.  She was a favorite Sunday school teacher, Bible study leader, member of Ladies Aide groups, and was a member of TOPS Chapter WI-1003 in Clintonville.  Eunice enjoyed the noon meals and fellowship at the Clintonville and Marion Senior Centers in her later years.
Over the past many years Eunice had experienced the devastating effects of Lewy Bodies Disease, a form of Alzheimer's.  Although Eunice's memory eventually failed her, our fond memories of her will never fade and will be with us forever!
Survivors include a son Steve (Jeannie) Sammartino of Wisconsin Rapids; a brother Robert (Dorothy) Mayer of Jacksonville, FL; and two cousins Margaret Parks of Iola and Elsie Utke of Marion.  She is further survived by grandchildren, nieces, nephews, and other relatives and friends.  Eunice is preceded in death by her loving parents, a brother John Mayer Jr., aunts, uncles, and other cousins.
Memorial Service will be held on Saturday, June 16th at 3:00 PM at Grace Family Church, 113 N. Main St., Marion.  Rev. Louis Boucher will officiate and inurnment will be at Greenleaf Cemetery, Marion.  Beil-Didier Funeral Home, Marion, is assisting with the arrangements.  In lieu of flowers, please consider a memorial in memory of Eunice to a charity of your own choice.