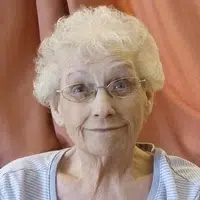 Nancy L. Spieth, age 83 of Tigerton passed away Tuesday, June 5, 2018 at ThedaCare Medical Center – Shawano.
The former Nancy Lee Reinel was born on May 9, 1935 in Ohio to Fred and Myra (Benjamin) Reinel.  She grew up and attended school in Ohio.  Nancy was united in marriage on December 28, 1962 to Edward C. "Pete" Spieth at St. John Lutheran Church, Tigerton.  She was a homemaker and stayed home to raise her children.  Nancy did work for some years at Hansen Glove Factory in Clintonville, Marion Plywood in Marion, and at Tigerton Red Owl in the bakery department.  Nancy was also employed for some time at Flanagan's Sauerkraut Factory, Bear Creek, and worked as a cook  at Strelow's Drive-In, Marion.  Her husband Pete preceded her in death on November 6, 2001.
Nancy was a longtime member of St. John Lutheran Church, Tigerton.  She enjoyed quilting and knitting; decorating cakes for all sorts of special occasions; and creating beautiful craft items, especially Christmas ornaments.  She will be remembered as a loving wife, mother, and proud grandmother.
Survivors include six children, Donald Stepnowski, John Stepnowski, Brenda (Mark) Kizewski, Annette (Keith) Strelow, Sandy (Jeff) Molter, and Scott (Jackie) Spieth.  There are 15 grandchildren and 20 great grandchildren.  She is further survived by a sister, Jeanette (Rick) Pflughoeft; a brother-in-law, Harold Arthur; and many other relatives and friends.  Nancy is preceded in death by her parents, her husband Pete, a grandson Cole Strelow, and a sister Kathleen Arthur.
Funeral Service will be held on Friday, June 8th at 11:00 AM at St. John Lutheran Church, Tigerton.  Rev. Dean Suehring will officiate and burial will follow at Union Cemetery, Tigerton.  Friends may call on Friday from 10:00 AM until time of service at the church.  Beil-Didier Funeral Home, Tigerton, is assisting with the arrangements.
The family wishes to thank all the doctors and nurses at ThedaCare Medical Center – Shawano for the excellent care and compassion provided to mom and her family.  We especially want to thank her caregiver Faye Miller for taking care of mom at home.