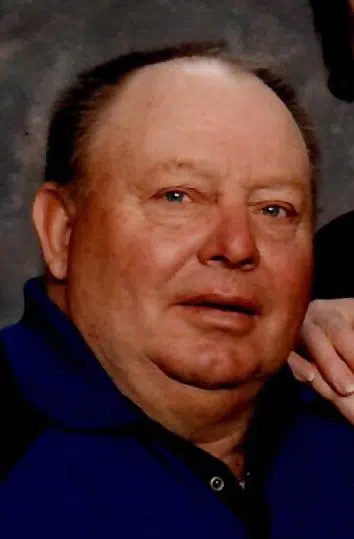 Robert H. Schertz, age 89 of the Town of Bear Creek, Waupaca County, passed away Thursday, May 17, 2018 at Atrium Post Acute Care of Shawano at Maple Lane.
Robert "Bob" Harold Schertz was born December 4, 1928 in the Town of Bear Creek, son to the late Frank & Cecilia (Reitzner) Schertz. He attended Clintonville Schools, and started working on the family's home farm at a young age. He farmed with his parents for a number of years and later was united in marriage to Shirley Schultz on September 14, 1948 at St. Mary's Catholic Church, Bear Creek. The couple eventually bought the farm and ran it together; later, they sold the cows, but continued cash cropping as well as growing produce that customers could come and pick themselves. Bob also worked for Miller Electric for about 8 years, but continued working around the farm into his early 80's. He was a long-time member of the Bear Creek Lion's Club. Bob loved the outdoors and took joy in sharing everything nature has to offer with his children. He enjoyed deer, raccoon, fox, & rabbit hunting along with his sons. He also liked snowmobiling in his younger years and probably had one of the area's first snowmobiles. Bob enjoyed taking the car out for a drive just to enjoy the local landscape. He loved spending time with his grandchildren; and will be remembered as easy-going, cooperative, & hard-working.
Survivors include:
Daughter: Kathy (Bob) Bruss, Shawano
Sons: David (Mary) Schertz, Bear Creek; Dan (Marsha) Schertz, Clintonville; Duane (Brenda) Schertz, Clintonville; Larry (Gail) Schertz, Clintonville; Randy (Sandy) Schertz, Ontario, OR; & Bruce (Deanna) Schertz, Schofield
Grandchildren: Tammy (Marty) Jacoby, Kris (Greg) Kriewaldt, Todd (Fran) Bruss, Brian (Dede) Bruss, Allison (Brad) Clark, Jesse (Maria) Schertz, Mindy (Tim) Heiman, Kolby (Katy) Schertz, Scott (Kristi) Schertz, Brooke Schertz, Robbie Schertz, Evan Schertz, Brodey Schertz, Kyle Oertel, & Nicci Oertel
Great-Grandchildren: Trevor, Britany, Brandon, Jaelyn, Kaden, Sara, Nick, Taylin, Cade, Brantley, Lilliana, Mara, Owen, Bryton, Jon, Zeke, Cece, Brodie, Westin, Harrison, Elaina, & Kinsley
Great-great-granddaughter: Kenzi
Robert was preceded in death by his parents; his wife Shirley; a granddaughter, Traci Bruss; a grandson, Paul Schertz; sister, Dorothy (Roland "Joe") Clinton; brothers, Theodore "Ted" (Frieda) Schertz & James "Jim" (Joyce) Schertz.
Memorial services will be held 5 PM, Tuesday, May 22, 2018 at the Eberhardt-Stevenson Funeral Home & Crematory, Clintonville, with Deacon Lincoln Wood officiating. The service will be followed by a meal at the Bear Creek Town Hall.
Friends may call on Tuesday at the funeral home from 3 PM until the time of the service.
Inurnment will take place at Graceland Cemetery, Clintonville the following morning.
The family would like to thank his in-home care-givers, Kay & Casey, as well as the staff at Atrium Post Acute Care of Shawano at Maple Lane.