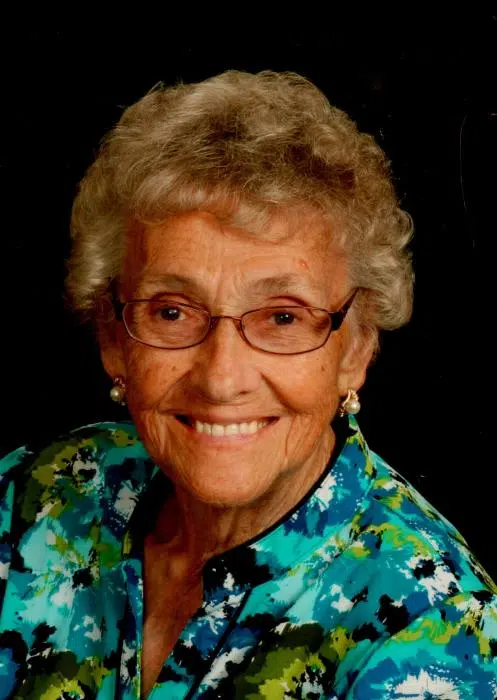 Burnett L. Hartwig, age 86 of Oshkosh, formerly of the Town of Bear Creek, Waupaca County, passed away Thursday morning, May 17, 2018 at Lakeshore Manor in Oshkosh.
Burnett was born on July 7, 1931 in the Town of Grant, Shawano County, as the daughter of the late Gust and Lydia (Wissmann) Grunewald. She grew up in Caroline where she was later united in marriage to Louis "Louie" Hartwig on September 15, 1951 at the Zion Lutheran Church. The couple farmed in the Town of Bear Creek for many years and after retirement in 1989 they loved to spend the winter months in Apache Junction, AZ. Louie preceded his wife in death on September 2, 2010. Burnett was a faithful member of the Trinity Lutheran Church in the Town of Bear Creek for many years. She loved baking; especially hot dishes, torts, and chocolate chip cookies. Burnett spent much of her free time doing embroidery and listening to polka music. She also looked forward to any opportunity to spend time with her grandchildren.
Survivors include:
4 daughters: Jean (Dale) Lohrentz & Eileen (Bruce) Guyette, Clintonville
Lorelei (John) Lowney, Fond du Lac & Carol (Gary) Christian, Fremont.
2 sons: Larry (Mary) Hartwig, Clintonville & Leonard (Verona) Hartwig, Ogdensburg.
Grandchildren & great-grandchildren: Joe Hartwig – Children:  Beau & Lincoln Hartwig; Jeff (Kari Norton) Hartwig – Children:  Logan & Megan Hartwig, Ariel Schoelkopf; Kathy Jo (Jason) Krueger – Children:  MaKenzie Jo, Daisy, Brooke, Jadon, & Peyton Krueger; Jeremy (Becky Hagberg) Hartwig – Children: Easton, Jaydon, & Hunter; Jason (Heidi) Hartwig; Justin (Chelsea) Hartwig – Son: Brevig; Shannon (Bob Graceffa) Mares – Children:  Bryce (Catherine Verbeten) Mares & Brittany Mares; Keith Lohrentz – Children:  Alex & Lauren Lohrentz; Megan (Jacob) Stobb – Children:  Peyton & Callen Stobb; Haley Lowney – Daughter: Hayden; Marissa (Cory Smith) Christian; and Mitchell Christian.
Brother: Leonard (Ila) Grunewald, Clintonville.
Sister-in-law: Marion Hartwig, Plymouth.
She was preceded in death by her parents, husband Louis, a sister Esther Jolitz, and brothers: Robert, Walter, Gust Jr., and Gilbert Grunewald.
Burnett's funeral service will be held Monday, May 21, 2018 at 11 AM at Trinity Lutheran Church in the Town of Bear Creek with Rev. Aric Fenske officiating. Interment at Graceland Cemetery in Clintonville will follow the meal at the church. Visitation will be at the church Monday morning from 9:30 AM until the time of the service. The Eberhardt-Stevenson Funeral Home & Crematory of Clintonville is assisting her family. www.eberhardtstevenson.com