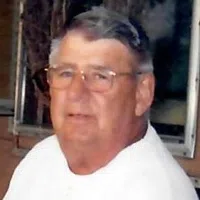 Allen "Bunny" Prothero, age 88, of Clintonville passed away Tuesday, May 15, 2018 at ThedaCare Medical Center – New London.
Allen Ray Prothero was born on March 17, 1930 in Waukesha to Russell and Edna (Killips) Prothero.  The family later moved to Racine where he was a proud 49er's graduate of William Horlick High School.  Al served with the Racine National Guard Battery B – 132 Battalion – 32nd Division from 1950 to 1956 achieving the rank of SFC.  Al worked at Western Publishing in Racine where he earned his Journeyman and Craftsman degree in Lithography and Photoengraving.  He was united in marriage on December 6, 1952 to Barbara A. Dunse in Racine.  They were blessed with three loving and caring sons.
In 1970 the couple settled in Clintonville and Al worked at LK Precision for a short time.  Then he was employed for many years as a lithographer and printer at Print 'N Press, Waupaca, until his retirement in 1995.  Al was a member of Clintonville Riverside Golf Course from 1972 – 2009 where he played many a round of golf with his buddies.  Al enjoyed many years of deer hunting and several fishing trips to Canada.  While working at Print 'N Press he took a work related trip to New Orleans which he enjoyed immensely and spoke of often.  He loved playing Cribbage and Thirty-one with family members and friends.  Al liked listening to polka music and was an avid Packer and Badger fan.  It's also possible that Al saw every Western ever made, many of them several times.
Survivors include his wife of 65 years, Barbara; and three sons, David (Connie) of Clintonville, Mark (Marylin) of Little Chute, and Craig (Nancy) of Greensboro, NC.  There are 9 grandchildren, 5 great grandchildren, and one more great grandchild due in December.  There is a sister-in-law, Joan Prothero of Seymour and a brother-in-law, Vernon Dunse of Wallace, MI.  He is further survived by several nieces, nephews, and cousins.  Al is preceded in death by his parents, two brothers, Miles and Jay, and two sisters-in-law, Donna and Gloria.
Funeral Service will be held on Saturday, May 19th at 11:00 AM at Beil-Didier Funeral Home, Clintonville.  Rev. Brian Crocker will officiate and burial will follow at Graceland Cemetery, Clintonville.  Friends may call on Saturday from 9:00 AM until time of service at the funeral home.
In lieu of flowers, please consider a donation to a charity of your own choice in Al's memory.