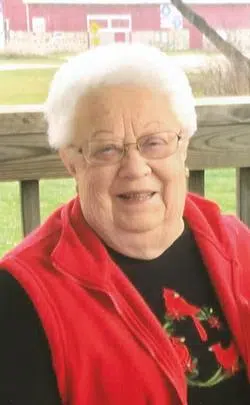 Betty A. Retzlaff
April 21, 1934 – May 11, 2018
Betty Ann Retzlaff, age 84, of Shawano, passed away on Friday, May 11, 2018 in Shawano. Betty was born in the Town of Belle Plaine on April 21, 1934, the daughter of the late Hugo and Minnie (Buelow) Werbelow.  She was baptized in May of 1934 and confirmed in May of 1947 at St. Martin Lutheran Church.  On June 20, 1953, she was united in marriage to Roland "Butch" Retzlaff at St. Martin Lutheran Church.  Butch preceded her in death on January 31, 1993.  Betty was a member of the St. Martin Lutheran Church, where she participated with the Ladies Aid for many years.  She was a member of the Country Neighbors Homemaker Club for many years.  Betty enjoyed watching her grandchildren play baseball, soccer and softball.
Betty is survived by: two sons, Gary (Patty) Retzlaff and Brian (Brenda Wendler) Retzlaff; Connie's significant other, John Blasczyk; grandchildren, Nathan (Tajia), Luke (Kristen), Aaron (Bonnie), Alex and Ava; great-grandchildren, Ray, Oliver, Morgan, Carson and one on the way.  Betty is further survived by: two sisters, Joyce Wockenfus of Shawano and Sharon Orheim of Seymour; two sisters-in-law, Lorraine Retzlaff and Alice Blank of Shawano; her uncle, Rev. Leonard (Carola) Buelow of Green Bay; as well as nieces, nephews, other relatives and friends.
She was preceded in death by: her husband, Butch; her daughter, Connie Retzlaff; grandson, Andrew; her parents; and her in-laws, Ruben Retzlaff, Mel Blank, Robert Wockenfus and Oscar "Bud" Orheim; as well as her aunts and uncles.
Funeral services for Betty will be held at 11:00 am on Thursday, May 17, 2018 at St. Martin Lutheran Church in the Town of Belle Plaine with Rev. Kurt Kluge officiating. Burial will be in the church cemetery.  Visitation will be at Swedberg Funeral Home in Shawano on Wednesday, May 16, 2018 from 4:00 – 8:00 pm and again at the church from 9:00 am until the time of the service.