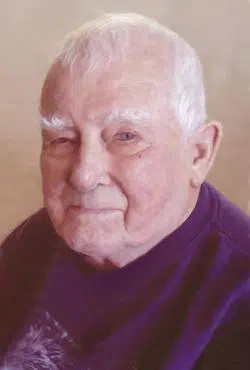 Alvin Henry Suehring, age 87, of the Town of Pella, passed away on Thursday, May 10, 2018 at his home surrounded by his family. Alvin was born in the Town of Pella on October 22, 1930, the son of the late Edward and Minnie (Baumann) Suehring.  Alvin was baptized on November 16, 1930 by Rev. Strasen and confirmed on June 4, 1944 by Rev. Uttech at St. John Lutheran Church, Hermansfort.  He attended grade school in Pella, walking to school most days and of course it was up hill both ways.  In June 1948, he graduated from Shawano High School.  On February 14, 1951 he enlisted in the United States Marine Corps, originally stationed in California before serving in Korea.  He returned state side in 1952 and finished his service at Great Lakes as a prison and gate guard until his honorable discharge.  On May 23, 1953, Alvin was united in marriage to Marilynn Sanders at St. John Lutheran Church.  Alvin worked at FWD for 31 years, farmed in the Town of Pella, and drove milk truck as well as semi for both bulk and can milk.  Alvin was a devoted member of St. John Lutheran Church, Hermansfort, where he served as the treasurer for many years as well as a member of the church council.  On May 14, 2015 he was humbly honored to participate in the Honor Flight to Washington D.C.  Alvin was a member of the NRA and the National Farmers Organization, where he served on the state and national committee for many years.  He was also a member of the VFW Post #663 and the American Legion Post #63 of Clintonville.
Alvin is survived by: his loving wife of almost 65 years, Marilynn; their son, Mark (Dawne) Suehring of Clintonville; six daughters, Deborah (Tod) Sanders of Green Bay, Julie (Rex) Barth of Germantown, Kim (Randy) Greunke of Marion, Nancy (Doug) Heiman of Clintonville, Sandy Marquardt of Shawano and Jo Richter of Shawano; grandchildren, Shane (Becky) Suehring, Brad (Lauren) Suehring, Nick (Pam) Sanders, Connie (Al) Dewitt, Kevin (Ann) Sanders, Shanan Barth, Heather Barth, Brian (Steph) Greunke, Michael (Kimberly) Greunke, Nicole (Josh) Rizzo, Corey (Denise) Heiman, Jake ( Ali Tinder) Heiman, Christopher (Pam) Marquardt, Bartholomew Marquardt, Tabitha Marquardt, Hannah (Max) Liptack, Johanna Marquardt and Samantha Richter; great-grandchildren, Olivia, Eddison, Parker, Dominic, Makana, Morgan, Kyus, Zethan, Gwendelynne, Elizabeth, Arya, Calvin, Fayne, Otto, Clara, Rowen, Quinlan, Elise, Leo, Lucy and Aiden; three step grandchildren and seven step great-grandchildren; one brother, Arlyn (Mitsuko) Suehring; two brothers-in-law, Allan (Judi) Sanders and Jim (Kitty) Sanders; and sisters-in-law, Anita Sanders and Betty Sanders; as well as nieces, nephews, cousins, other relatives and friends.
He was preceded in death by his parents; one brother, Eugene Suehring; and two brothers-in-law, David Sanders and Ronald Sanders.
Funeral services for Alvin will be held at 11:00 am on Monday, May 14, 2018 at St. John Lutheran Church, Hermansfort with Rev. Steve Conradt officiating. Burial will be in the church cemetery with military honors conducted by the Clintonville American Legion Post #63 and the Clintonville VFW Post #663.  Visitation will be held at Swedberg Funeral Home in Shawano on Sunday, May 13, 2018 from 4:00 – 7:00 pm and again on Monday at the church from 9:30 am until the time of the service.