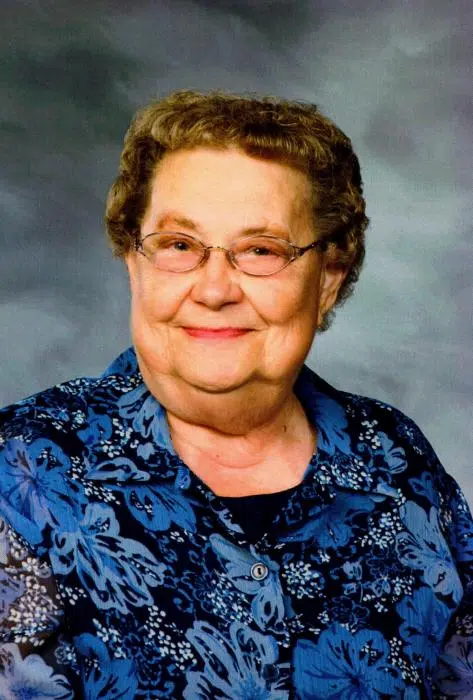 Ethel Caroline Martha Koeller, age 87 of 203 High Street, Embarrass was joyously welcomed home by her Lord and Savior on May 7, 2018.
Born 12/18/1930 in the Township of Matteson, Waupaca County to Paul and Ada (Harke) Dumke and was baptized January 1, 1931 by the Rev. Walter List. Born and raised on family farm on Hwy Y just outside of Embarrass. Ethel married Harold P Koeller on August 7, 1948 at Zion Lutheran Church, Embarrass by Rev. Walter List. Ethel and Harold lived in the Village of Embarrass. Harold preceded his wife in death on August 8, 2006 after 58 years of marriage. Ethel worked at the Hansen Glove Factory, Schultz Brothers Dime Store and was caretaker of the Riverside Cemetery for many years. Ethel attended the Embarrass State Grade School through the 9th grade. She was a member of the Zion Lutheran Church Ladies Aid, held the office of President, Vice-President and Treasurer for many years. Ethel's greatest love in life was for her Lord and Savior; she was a good, kind and faithful servant of that faith.
She will be greatly missed by her
family:
2 daughters, Elaine (Dennis) Roehl,
Leopolis; Diane (Dave) Wojculis, Menominee Falls;
2 sons, Duane (Sally) Koeller, Clintonville
and Lee (fiance Mary Jo Zeise), Kronenwetter
Grandchildren, Fawn (Kris) Kratzke, Jessica
Wojculis, Matt (Angela) Koeller, Victoria (David) Blaha, Sayer
and Shara Koeller and 1 step-grandson, Jeff Flink, Jr. (special friend Jessica Parker)
Great-grandchildren,
Kiana Kratzke, Clayton Wilkes, Olivia and Aubrey Blaha; Chase Koeller, step
great- grandchildren Macie Kratzke, Cameron Flink and Savannah Parker.
Further survived by sister, LaVerne Vogt, West Bend, brother-in-law, Gordon
Klemp, Clintonville; also very special friend, Shelly (Pat) Schutt.
Also survived by several nieces, nephews and
many dear relatives and friends.
Ethel was preceded in death by her husband, Harold, parents Paul and Ada Dumke, mother/father-in- law, Edwin and Mathilda (Koepsell) Koeller, sisters Pauline Klemp and Dorothy Zeuske-Postel; brothers-in-law, Dennis Zeuske, Hubert Vogt, Edward Koeller and Hugo Koeller, Bob Postel, sister-in-law, Deloris Koeller, Ruth Koeller and niece, Ruth Klemp Slaby.
Ethel's funeral service will be held Saturday, May 12, 2018 at 11 AM at Zion Lutheran Church in Embarrass with Rev. Todd Jerabek officiating. Interment will follow at the Zion Lutheran Cemetery also in Embarrass. Friends may call at the church on Saturday from 9 AM until the time of the service. The Eberhardt-Stevenson Funeral Home & Crematory of Clintonville is assisting her family. www.eberhardtstevenson.com
Her greatest joy in life was taking care of her grandchildren and great-grandchildren, working at church in every capacity, especially helping with funerals and soup dinners, canning pickles
and tomatoes, working in the flower beds, her prized raspberries and also making quilts for World Relief; Ethel was also known for her canned pickles and tomatoes. In lieu of flowers a memorial fund will be established by Ethel's family. They would like to extend a special thank you to Dr. Benjamin Schlais and his staff as well as the staff at Pine Manor Health Care Center in Embarrass for the outstanding care Ethel received.