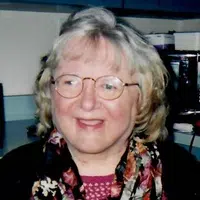 Betty W. Malueg, age 76, of Shawano (formerly of Tigerton) passed away Tuesday, January 16, 2018 at ThedaCare Medical Center, Shawano.
Betty Wilma Malueg was born on October 15, 1941 in Tigerton to Arnold and Helga (Hendrickson) Malueg.  She grew up in Tigerton and attended Tigerton High School.  Due to Betty's disability she never worked or married and spent close to half of her life in the nursing home.  But she was a gift from God who touched the lives of countless nurses and staff at Atrium Post-Acute Care of Shawano at Maple Lane.  Betty enjoyed music, playing the keyboard, and entertaining all the other residents.  She took part in creating beautiful craft projects and liked to sew.  Betty's favorite television shows were Everybody Loves Raymond, Full House, and Wheel of Fortune.  Her wonderful smile and sense of humor melted the hearts of everyone she met.
Survivors include one sister, Ann Schneidewend of Clintonville.  There are six nieces and nephews:  Melanie (Mark) Miles, New London, Marsha (George) Radtke, Hortonville, Tom (Cindy) Schneidewend, Town of Bear Creek, Terri (Steve) Pedersen, Shawano, Scot (Jackie) Schneidewend, Clintonville, and Shawn (Mike) Drefahl, Tigerton.  She is further survived by numerous great nieces and nephews; many great-great nieces and nephews; and other relatives and friends.  Betty is preceded in death by her parents and a brother-in-law, Paul Schneidewend.
Graveside Service will be held on Saturday, May 12th at 11:00 AM at Union Cemetery, Tigerton, with Rev. Clifford Kessen officiating.  Following the graveside service all are invited to a luncheon at the American Legion Hall, Tigerton.   The Beil-Didier Funeral Home, Tigerton, assisted with the arrangements.