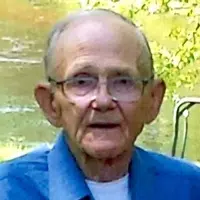 Alfred "Al" Forsyth, of Shawano (formerly Clintonville) passed away Sunday, May 6, 2018 at his home.
Alfred Earl Forsyth was born on November 22, 1929 in Waukesha to Earl and Ethel (Gillette) Forsyth.  He grew up in Waukesha and graduated from Waukesha High School in 1950.  Al was united in marriage on December 2, 1950 to Deloris "Dot" Lyon at First Baptist Church, Waukesha.  In 1966 the couple moved to Cecil where they owned and operated the White Clay Lake Lodge until 1979.  Al and Dot settled in Clintonville in 1980.  Over the years Al was employed for several companies but worked for many years at Bemis Company, Green Bay, until retiring in 1996.  Then he worked in Hardware and Lawn & Garden for some time at the Walmart Supercenter in Shawano.  His wife preceded him in death on April 15, 2001.
Al was a longtime member of Zion Lutheran Church, Embarrass, where he actively served as an Elder, Communion Deacon, and participated in different Bible Study Groups.  His life was always built around his faith and helping others with whatever was needed.  Al was a real handyman who could build just about anything out of wood.  He liked trout fishing, watching the birds, bicycling, and cheering on the Green Bay Packers.  Al is a former member of the Cecil Lions Club and a current member of the Clintonville Lions Club.  He helped out with countless projects for the club whether it was building wheel chair ramps or creating the club float.  Al will be remembered most as a sweet, kind, and humble individual who will be missed by everyone.
Survivors include three children, Carey Forsyth of Shawano, Cindy (Dale) Morris of Cecil, and Char (Jack) O'Brien of Shawano.  There are 5 grandchildren, Shaun Forsyth, Farrah Forsyth, Jeremy (Jolene) Morris, Alan (Katie) Morris, and Joshua O'Brien.  There are 4 great grandchildren, Brooklyn, Jamison, Hadleigh, and Hudson.  There are two sisters-in-law, Debra Lyon of New Berlin and Carolyn Forsyth of Indiana; and one brother-in-law, Ronald Ehrlich of Rubicon.  He is further survived by many nieces, nephews, other relatives and friends.
Al is preceded in death by his parents, his wife Dot, granddaughter Christina Forsyth, daughter-in-law Barbara; two sisters Bernice (John) Oldenberg and Nancy Ehrlich; two brothers Donald (Dolly) Forsyth and David Forsyth; two sisters-in-law Marge (Ed) Preston and Mary LaFratta; and a brother-in-law Anthony Lyon.
Funeral Service will be held on Friday, May 11th at 11:00 AM at Zion Lutheran Church, Embarrass.  Rev. Todd Jerabek will officiate and burial will follow in the parish cemetery.  Friends may call on Friday from 9:00 AM until time of service at the church.  Beil-Didier Funeral Home, Clintonville, is assisting with the arrangements.
The family wishes to especially thank all the nurses with ThedaCare at Home Hospice for the wonderful care given to Dad.