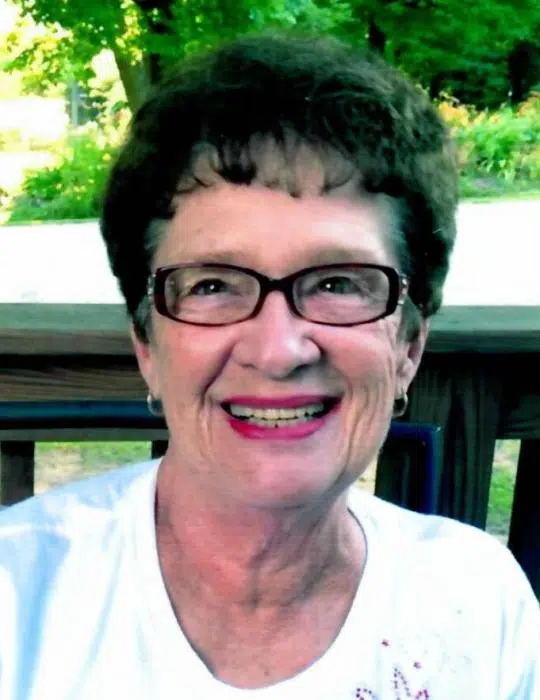 Blessed is she that believes in the promises of the Lord. Luke 1:45
Heaven welcomed Sandra S. (Sanders) Smith on Friday the fourth day of May, 2018. Sandy was born on March 25, 1942 in Clintonville, WI to Willis and Naomi (Krohn) Sanders. Sandy spent her childhood years in Clintonville where she graduated high school in 1960. Sandy did secretarial work after high school; her first job was for the principal at CSHS. She moved to Milwaukee where she continued doing secretarial work until returning to the Clintonville area.
In 1965, Sandy met and married Dale Suehring of Tigerton, WI, they had 3 sons, but divorced in 1980. In 1983, Sandy met the love of her life, Donald (Big Don) Smith.  Don & Sandy spent almost 30 wonderful years together in the Clintonville area. They enjoyed traveling throughout the United States, camping at Post Lake and the Waupaca area with their children and grandchildren, fishing, watching Packer games and enjoying many social times with friends and relatives.
After Don passed away in 2012, Sandy moved to Shawano, WI.  Sandy joined Hope Community Church, Shawano, where she shared love and friendship with many people in her church family.  Sandy enjoyed escaping winters by traveling to Gulf Shores, Alabama and Florida with friends.  Sandy was so blessed to have wonderful friends who were always there for her.  In 2014, Sandy was diagnosed with cancer and spent the following years courageously fighting that battle.  Sandy learned and loved to play Bridge, spending many hours a week playing with friends. Sandy loved to read and crochet, often giving those she loved one of her projects.  Most of all Sandy adored and loved spending time with her children and grandchildren, she felt blessed to have and to inherit a huge loving family to spend holidays and other family events with.
Sandy is survived by one son and daughter in law, Michael and Melissa Suehring of Caroline, WI.  Sandy is also survived by 6 step children; Connie (Ken) Christensen, Gillett, WI, Cindy (Frank) Erb, Greenville, SC, Carla Loritz, De Pere, WI, Cheryl (Lee) Kucksdorf, Neenah, WI, Don (Peggy) Smith, Onalaska, WI, Carilee (Paul) Klatt, Oshkosh, WI.
Sandy was blessed with 4 grandchildren; Michael, Chase, Ariana and Ella Suehring.  Also, 19 step grandchildren; Angela Halverson, Katie Antoniewicz, Lisa Sloan, Melissa LaMountain, Michelle Christensen, Ray Christensen, John & Christina Plamann, Frannie & Priscilla Erb, Laura Kaster, Emily Stephenson, Dawn Paffel, Derek Kucksdorf, Bethany Galezio, Adam Smith, Chelsea & Ryan Nowaczynski, Andrew, Ryan, Kirsten and Ethan Klatt.  Sandy is also survived by 9 step great grandchildren; Claire, Reid and Jackson Paffel, Warren and Josephine Halverson, Grace and Alice Kaster, Audrey & Lucas LaMountain, and Ella Vignali.
Sandy is further survived by her siblings; Shirley (John) Ortner, Tigerton, WI, Diane (Gary) Hidde, Tigerton, WI, Bill (Kay) Sanders, Iola, WI, Tom (Sandy) Sanders, Gresham, WI, many nieces and nephews, and so many dear friends.
Sandy was preceded in death by her parents, Willis and Naomi Sanders, two sons; James Suehring and Allen Suehring and her beloved husband, Donald Smith.
A celebration of Sandy's life will be held 11 AM, Thursday, May 10, 2018 at Hope Community Church, Shawano, WI, with the Rev. John Anderson officiating. Inurnment will take place at Graceland Cemetery, Clintonville, WI, at a later date.
Friends may call on Thursday at the church from 9 AM until the time of the service.
The Eberhardt-Stevenson Funeral Home & Crematory, Clintonville is assisting the family.