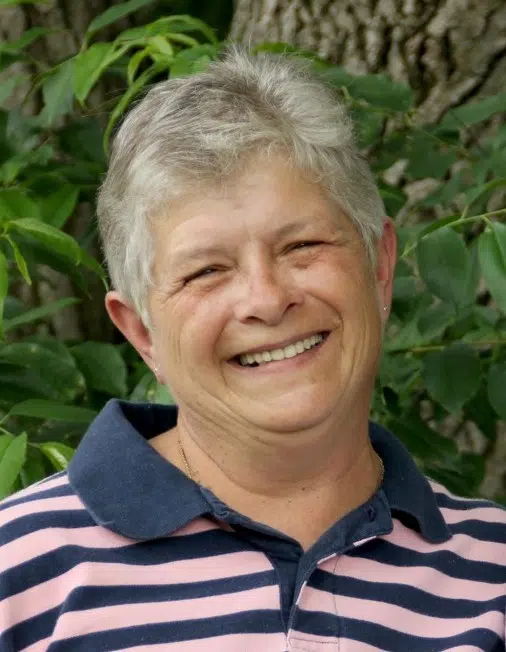 Jean Joyce Hansen, age 65 of Manitowoc, WI, died on Saturday, May 5, 2018 from injuries suffered in an accident at her home.
She and her twin sister, Joan, were born on August 30, 1952 at New London Hospital to Louie and Mildred (Jorgensen) Hansen. She graduated from Clintonville Senior High School in 1970 and was employed at various companies in the Clintonville, Green Bay, and Appleton areas, retiring from Goodwill Industries, Appleton, WI in July 2017. She married Susan Hein on August 20, 2016 at their home in Manitowoc. She loved traveling with Suzie, visiting new places, the Milwaukee Brewers and Green Bay Packers. She enjoyed driving tractor and helping her brothers on the family farm in her younger years. She also loved her animals-dogs, cats, horses- and they were blessed to have been a part of her life.
She is survived by her wife, Susan Hein; her sisters, Leila Skorczewski, Arlene (Mick) Karchinski, and Joan (Dave) Millard; her brothers, Gerald (Arlene) Hansen, Kenneth (Geraldine) Hansen, and Arlyn (Kathy) Hansen; her sisters-in-law, Alice Hansen, Joan Hansen, and their families.
She is further survived by Suzie's family; mother, Leona Hein; sisters, Joan Free, Patricia (David) Nickels, and Wendy (Rob) Wetak; brothers, Mel (Marlene) Hein, and their families.
She was predeceased by her parents; brothers, Lyle (Cleo & Janet) Hansen, Harland Hansen, and Ronald Hansen; her nieces, Debra Hansen and Robin Phillips; and her brother-in-law, Jan Skorczewski. Also predeceased by Suzie's father, Ray Hein, and brother-in-law, Lloyd Free.
Memorial services will be held 11 AM, Friday, May 11, 2018 at Christus Lutheran Church, Clintonville, with the Rev. Brian Crocker officiating.
Friends may call on Friday at the church from 9 AM until the time of the service.
In lieu of flowers, a memorial fund has been established.
The Eberhardt-Stevenson Funeral Home & Crematory, Clintonville is assisting the family with the arrangements.