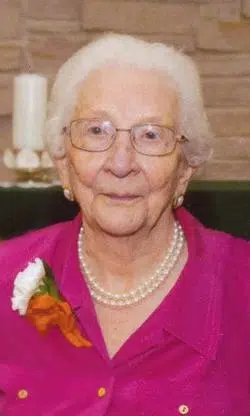 Veronica Ann Kristof, age 94 formerly of Leopolis, passed away peacefully on May 3, 2018 at Atrium Health – Maple Lane in Shawano. Born on August 26, 1923 in Gresham, she was the youngest daughter of the late Nicholas and Mary (Boudnik) Stezenski. After graduating from Gresham High School in 1941, Veronica joined her sister Frances in traveling to Milwaukee in 1942 to work as a welder during WWII. Upon returning to Lyndhurst in 1944, she cleaned houses and joined the other Gresham girls on weekends at one of the local dance halls where she met her future husband Floyd. On June 15, 1946 she was united in marriage to Floyd Kristof at the St. Mary's Catholic Church in Leopolis. The couple farmed in the Town of Seneca until their retirement in 1983. Upon retirement, the couple traveled the country on numerous bus tours and enjoyed finding a good Polka dance or card game. She was an avid BABA Leopolis Bulldogs, Packers and Brewer Fan. She also enjoyed attending the Leopolis Fish and Game Club meetings to partake in raw ground-round sandwiches and blood sausage, which they made themselves for a number of years.  She was a member of the St Mary's Catholic Church in Leopolis, member of the Ladies CCW, where she was an active pickle, pie, jam/jelly and koloche baker for the yearly Autumn Fest and CCW Bake sales. She enjoyed cooking and baking, making her favorite bars and potato salad whenever there was a pot luck event, plus gardening, golfing, and playing Sheepshead, Smear, Cribbage and Royal Rummy as often as possible. She also enjoyed reading until her vision was hindered by macular degeneration. Veronica is survived by: her sons, Steve (Marjorie) of Leopolis, Pete of Cloverleaf Lakes, Bob (dog Leelo) of Leopolis; her daughter-in-law Patricia Kristof of Shawano; eight grandchildren, Tom Kristof Jr., David (Missy) Kristof, Karen (Jason) Dean, Jennifer (Jose) Marriog, Joseph (Crystal) Kristof, Jessica Kristof, Miranda Kristof, Adam Holcomb; 16 great-grandchildren, Andrew, Kasey, Kendra, Alex, Josh, Gabriel, and twins – Scarlett and Joanna Kristof, Leah and Wyatt Dean, Sofia and Cristian Marroig, Dylan and Tyarra Holcomb, and Jadin and Kiana Soukhaphaly.  Veronica is further survived by: three sisters-in-law, Gladys Stezenski, Carol and Rita Kristof all of Shawano as well as numerous nieces and nephews.
Veronica was preceded in death by: her husband Floyd in 2014; her parents; son Tom Kristof, Sr.; daughter-in-law Debralie Kristof; four brothers, Peter (at birth) Alvin, Eddie (Loretta) and Joe Stezenski; and three sisters, Mary Ann Rambach, Anna (George) Dillenberg and Frances (Fred) Prohaska; as well as a brother-in-law, Alan Kristof Sr.; two sisters-in-law, Doris Neville and Betty Dieck; along with lifelong friends Melvin and Leona Paiser. Funeral services will be held at 11:00 am on Tuesday, May 8, 2018 at the St. Mary Catholic Church in Leopolis with the Rev. Francis Zurbano officiating. Burial will be in the church cemetery. Visitation will be held Tuesday at the church from 9:00 am until the time of the service.
The family would like to express their gratitude to the caring staff at Kindred Hearts in Shawano, where she was a resident from 2012-2015 and Atrium – Maple Lane Care Center since Dec. 2015, and the frequent visits from Chuck, John Sazama, Mary Martin and dog Magee, and the Sacred Heart-Shawano deacons and prayer ladies.