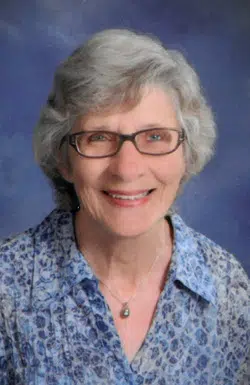 Rita A. Berg, 78, of New London died Sunday, April 29, 2018 at UW Madison Hospital.  Rita was born on August 1, 1939.  She grew up in Coleman WI and graduated in 1957. She moved to Milwaukee where she was employed at Master Lock.  She met Tom Berg in Milwaukee in the apartment building where they both lived.  They were married on August 27, 1960 and moved to New London in 1965.  Rita worked at New London schools in food service for many years.  She loved to bowl, travel, and do yard work.  She bowled for over 45 years. She took many bus trips and has been in every state except Alaska and Hawaii.  She also took many family vacations all over the states.  The family favorite was Myrtle Beach, South Carolina. She loved her travels spending time with her closest friends, Ila Mae, Judy and Donna.  Rita also enjoyed playing cards with her sisters once a month.  She enjoyed having the whole family over for holidays and baking the best cookies ever.  In her free time she also made beautiful cross stitch pictures.
Rita is survived by her four children: Glenn (Songie) Berg; Monte (Laurie) Berg; Corey (Julie) Berg; Becki (Dave) Roberts; grandchildren: Kylee, Trevor, Tanner, Mindy, Mandy and Fara; great-grandchildren: Noah, (one on the way), Brittany, Bailey, Nevaeh, Reed, Silas, Tabitha, Uriah, Elliana, Gracelyn, Ezekiel, and Malachi; three sisters, Kay (Pete) Lamensky, Fay (Dan) Smith, Judy (Bob) Henning.  She is further survived by three brother in-laws, a sister in-law and many nieces, nephews, and special family friends, Chris Lichtenberg and Steve Drum.
She is preceded in death by her parents, Alphonse and Helen Durocher, her husband Tom; two brothers, Roger and Gerald Durocher, four sister in-laws and four brother in-laws.
Rita was a devout Catholic at Most Precious Blood Parish.  She had a big heart and was a fun loving person.  All it took to make her day was hearing a Neil Diamond song on the radio.  She will truly be missed by all of her family and friends.
The Funeral Mass for Rita will be held at 11:00 a.m. on Friday, May 4, 2018 at Most Precious Blood Catholic Church in New London with Fr. John Kleinschmidt officiating. Burial will be in the Most Precious Blood Cemetery, New London.  Visitation will be held from 4-7 p.m. Thursday at Cline & Hanson Funeral home and at the church on Friday from 10:00 a.m. until the time of service.
The family would like to thank the people who cared for her at St. Joseph Residence and UW Madison Hospital the last few months of her life.