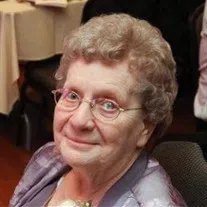 Delores J. Denny, age 87 of Shawano, passed away Tuesday morning, April 24, 2018 at Atrium Post Acute Care of Evergreen where she had been a resident for a week.
Delores was born August 2, 1930 in Shawano, a daughter of the late Elroy and Selma (Krause) Moesch. She attended school in Shawano, graduating from Shawano High School. Following school she worked at Bernie's Supper Club and later, at Stan & Bud's. On October 28, 1950 she was united in marriage to August Denny at Sacred Heart Catholic Church in Shawano. Mr. Denny preceded her in death on January 1, 1999. Delores spent several years working in the Dietary Department at Shawano Hospital. She is a member of Sacred Heart Catholic Church. She loved to garden and babysit. Delores was also an excellent baker and cook.
Survivors include her daughters, Deb Baker, Vicki (Curt) Steege, and Robin Hintz, and her son, Bruce (Dr. Amy Slagle) Denny of all of Shawano; three grandchildren, Adam Steege, Farrah Scheffler, and Teresa Hintz; two great-grandchildren, Ava Scheffler and Valen Rodey; her brother, Roger (Nan) Moesch of Milwaukee; and many nieces and nephews. She was preceded in death by three brothers and one sister.
Funeral services for Delores will take place on Saturday, April 28 at 11:00 AM at Mickelson Funeral Service in Shawano. Fr. Tom Farrell will officiate. Entombment will be in the Sacred Heart Mausoleum. Visitation will begin at 10:00 AM on Saturday and continue until the time of service.