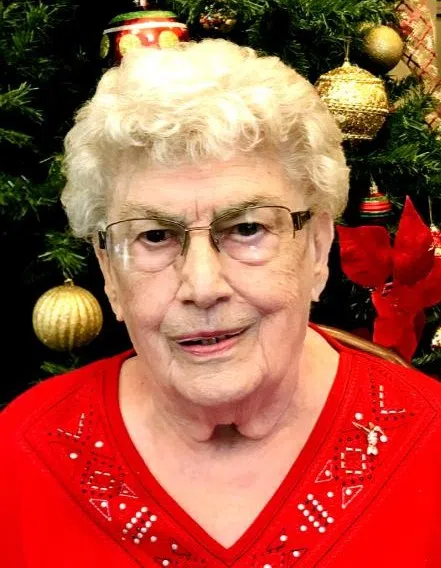 Adalia T. Olson, age 89 of Clintonville, passed away Tuesday evening April 24, 2018 at the ThedaCare Medical Center in Shawano.
Adalia was born on December 21, 1928 in the Town of Deer Creek, Outagamie County as the daughter of the late Otto and Christabel (Volz) Ponzer. She was baptized on February 3, 1929 at St. John Lutheran Church in Deer Creek where she was also confirmed on June 7, 1942. Her confirmation verse was 1 Timothy 6:12, "Fight the good fight of faith – lay hold on eternal life." Adalia graduated as a member of the Clintonville High School's Class of 1946 and later graduated from the Accredited School of Cosmetology, Green Bay, in February of 1947. Adalia was united in marriage to Dale Olson on February 4, 1948 at her home church in Deer Creek. The couple had 6 sons and later divorced prior to Dale's death in 1979. Adalia worked for and managed Vanity Fair Salon in Clintonville for 16 years before starting her own shop in 1982, retiring in 2002. She was a current member of St. Martin Lutheran Church in Clintonville and served her community as a member and past president of the VFW Post #664 Auxiliary in town for over 14 years. Adalia loved playing cards with her friends and family, doing fancy work, as well as canning and freezing goodies for her family.
Survivors include:
Her sons: Doug (Connie) Olson, St. Germain & Dick (Bonnie) Olson, Clintonville.
Grandchildren: Chad (Shelly) Olson, Kari (Greg) Maines, Kyle (Sheila) Olson, Andrea (Nate) Michonski, Abbey Olson, Austin (Brianna) Olson, Adler "A.J." Olson, Tracy (David Bucki, Jr.) Sirna & Travis (Dani) Olson.
Great-Grandchildren: Alex, Joe, Gabby, Ticeon, Hunter, Christie, Aiden, Brady, Tanner, Carter, Ava, Grayson, Graham, Hugh, Aubrey, Lexi, Bentley, Eleanor, & Bailey.
Also a special person in her life: Moni (Duane) Jarvis.
Adalia was preceded in death by her parents, ex-husband Dale, and sons Dirk, Darrell, Duane "Duke", and Daniel Olson.
Funeral services will be held Saturday, May 5, 2018 (on her late son Darrell's birthday) at 11 AM at St. Martin Lutheran Church in Clintonville with Rev. Christian Burg & Rev. Vilas Mazemke officiating. Interment will follow at the Graceland Cemetery in Clintonville. Friends may call at the church on Saturday from 9 AM until the time of the service. Memorials may be directed to the First Lutheran Church in Shiocton. The Eberhardt-Stevenson Funeral Home & Crematory of Clintonville is assisting her family. www.eberhardtstevenson.com