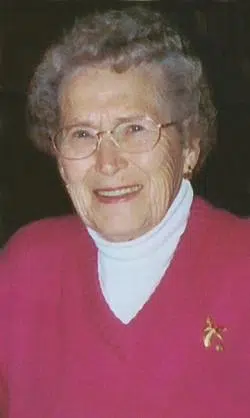 Elaine Arvella Buchholz, age 90, of Bonduel passed away on Tuesday, April 24, 2018 at Birch Hill Care Center, Shawano. Elaine was born on June 27, 1927 in the Town of Angelica to the late Elmer and Elma (Specht) Folkman.  On August 21, 1927, she was baptized by Rev. Habermann, she was also confirmed by Rev. Habermann on July 28, 1940 at St. Paul Evangelical Lutheran Church.  On April 18, 1948 Elaine was united in marriage to Ruben L. Buchholz at St. Paul Lutheran Church in Angelica.  Ruben preceded Elaine in death on December 27, 2012.  After marriage, Elaine and Ruben farmed in the Town of Hartland and raised their five children.  In 1973 the couple sold the farm and built their own home on a portion of the back 40.  Elaine also worked at the Pulaski Toy Factory, the Bilmay Hotel in Shawano and the pickle factory in Bonduel for 35 years before retiring.  When Elaine was not busy working or tending to her family, she loved playing cards with her neighbors and friends.  Elaine was an avid bowler for 30 years, enjoyed making braided rugs and quilts.  She loved gardening and her flowers were her pride and joy.  Elaine and Ruben loved traveling together, visiting all over the United States as well as trips to Denmark, Germany, Austria, Italy, Switzerland and France. Elaine's greatest joy in life was spending time with her family. She was a wonderful wife, mother, grandmother and great-grandmother and will be deeply missed.
Elaine leaves behind: five children, Ronald (Linda) Buchholz of Fort Myers, FL, Rheda Serwe of Greenville, Roxanne Monroe of Shawano, Romaine (Michael) Strauss of Bonduel and Regan (Kathy) Buchholz of Bonduel; 8 grandchildren, Zak, Cody, Adam, Alishea, Amber, Rachelle, Tyler and Chelsea; 4 great-grandchildren, Hunter, Kendall, Brynn, Cade and one on the way.  She is further survived by her 3 brothers, Dewey (Shirley) Folkman of Pulaski, William (Florence) Folkman Krakow and James (Kathy) Folkman of Hobart; one sister, Beverly Anderson of Green Bay; sister-in-law, Doris Buchholz of Bonduel; and brother-in-law, Robert Buntrock of Fort Myers, FL; as well as numerous nieces, nephews, other relatives and friends.
She was preceded in death by her beloved husband of 64 years, Ruben; her parents; her sister, Arly Buntrock; 2 brothers-in-law, Raymond Buchholz and Hubert Buchholz; 2 sisters-in-law, Lora Roundy and Fern Buchholz.
Funeral services for Elaine will be held at 11:00 am on Friday, April 27, 2018 at St. Paul Lutheran Church in Bonduel with Pastor Timothy Shoup officiating. Burial will be in the church cemetery.  Visitation will be held at the church Thursday from 4:00 – 8:00 pm and again on Friday from 10:00 am until the time of the service.  In lieu of flowers, memorials may be directed to St. Paul Lutheran Church and school.  Swedberg Wendt Funeral Home is assisting the family with the arrangements.
The family would like to extend a heartfelt thank you to the staff at Meadowview Assisted Living in Bonduel, Birch Hill Care Center in Shawano and Swedberg Wendt Funeral Home for the loving care given to Elaine and the compassion shown to her family.
 Jeremiah 31:3
"Yea I have loved thee with an everlasting love, therefore with loving kindness have I drawn thee"