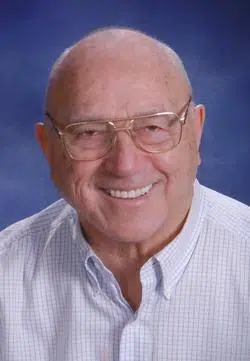 Raymond S. "Ray" "Windy" Heinritz, age 82, of Gresham passed away on Sunday, April 22, 2018 at his home with his family at his side. Born on August 15, 1935 in Appleton, he is the son of the late Chester and Sophie (Zimmerman) Heinritz.  Ray graduated from Appleton High School, where he met the love of his life, Jean Hiebel.  Ray and Jean were married in Appleton on May 5, 1953.  The couple made their home in Appleton where they raised their family and where Ray worked as an electrician.  Ray loved sports and was instrumental in the inception of the Appleton Youth Baseball program.  In 1980 Ray and Jean moved to Big Lake in Gresham where Ray quickly became a fixture in the community.  He was known as an institution on Big Lake where he acted as the neighborhood watch and security guard and was always willing to lend a helping hand to his neighbors and friends.  He served as Town Supervisor for the Town of Red Springs for over 20 years.  Ray also sat on numerous county committees and served as fire warden for several years.  He was a partner in the Big Lake storage facility and masterfully maximized the storage space.  Ray loved dogs and gave many dogs homes.  More than anything, Raymond loved spending time with his family, grandkids and great-grandkids.  His greatest joy in life was watching his grandchildren and great-grandchildren have fun.
Raymond is survived by: his loving wife of 64 years, Jean; their five children, Michael Heinritz, Dan (Jill) Heinritz, Tim (Karen) Heinritz, Dave (Brenda) Heinritz all of Appleton, and Sue (Chris) Morse of North Prairie; 11 grandchildren, Samantha, Danielle, Ali, Jennifer, Terri, Mike, Christine, Dan, Nicole, Riley and Ben; and eight great-grandchildren, Gloria, Sabrina, Tucker, Cameron, Carolina, Emelia, Lila and Magnolia. He is further survived by numerous nieces, nephews, other relatives and friends.
He was preceded in death by: one daughter, Debbie Mitchler; his parents; and seven siblings, Robert, Shirley, Gladys, Donald, Chet, Jr., Earl and Jay.
Memorial services for Raymond will be held at 11:00 am on Saturday, April 28, 2018 at St. Jakobi Lutheran Church, W8089 County Rd. A in Shawano, with Rev. Travis Kleinschmidt officiating. Inurnment will be in Highland Memorial Park in Appleton. Visitation will be held at the church on Saturday from 9:30 am until the time of the service. Memorials may be directed to St. Jakobi Lutheran Church, JDRF for juvenile diabetes research, Fox Valley Brain Tumor Coalition, or the American Cancer Society.