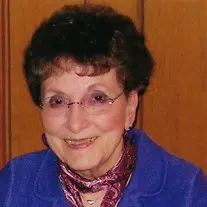 Marjorie D. (ROSENOW) Peterson, age 94 of Shawano, passed away on Thursday afternoon, April 19, 2018 at Kindred Hearts Assisted Living in Shawano where she had been a resident for over ten years.
Marjorie was born on November 21, 1923 in Bonduel, Wisconsin, the daughter of the late Seny and Minnie (Weier) Beilfuss. Marge was raised in Bonduel, and was a graduate of Bonduel High School, she had been employed as a sales coordinator at Consolidated Badger Cooperative for over 26 years, retiring in 1985.
In 1942 she was united in marriage to Vernal Rosenow. Mr. Rosenow preceded her in death on February 4, 1986. In 1988, Marge married Ward Peterson in Bonduel, and following their marriage, the couple resided in Shawano. Mr. Peterson preceded her in death on November 23, 2010.
Marge held strong ties to the Bonduel community as a life-long member of St Paul Lutheran Church, where she sang in the choir for many years. She liked to play bridge, and enjoyed the camaraderie of her bridge club friends. Among her other interests were bowling, needlework and music/dancing. She and her husband, Ward, were chosen King and Queen of the Shawano Oktoberfest by the Shawano Area Chamber of Commerce in 1991. For many years she and Ward enjoyed golfing and their second home in North Fort Meyers, Florida.
Marjorie is survived by her daughter, Regis (Richard) Gosz of Kaukauna, her son, Ronald (Wendy) Rosenow of Shawano. Her step-son, Miles (Mary) Peterson of Bixby, Oklahoma. Eight grandchildren and twelve great-grandchildren. She is further survived by her sister, June Raether.
Marge was preceded in death by her parents, her sister, Luella Radloff, her brothers Wallace, Gerald and Robert Beilfuss and a step daughter, Linda Dallman-Repp.
Funeral services for Marjorie D. Peterson will be held on Wednesday, April 25, 2018 at 11 AM at St Paul Lutheran Church, Bonduel. Pastor Timothy Shoup will officiate. Interment will be in the church cemetery. Relatives and friends may call at the church on Wednesday from 10 AM until the hour of service. Mickelson Funeral and Cremation Service of Shawano is assisting the family with the service arrangements. Share online condolences at www.mickelsonfs.com
"A special thank you to the staff at Kindred Hearts in Shawano, and to ThedaCare at Home Hospice for the wonderful care of our Mom."