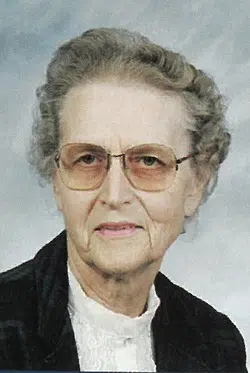 Edith M. Manske, age 88 of New London passed away peacefully at her residence on Monday, April 16, 2018.  She was born on February 20, 1930 in West Allis, daughter of the late Noah and Lydia (Schmidt) Bennetts.  On August 2, 1950, Edith was united in marriage to Lawrence Manske. He preceded her in death in 1998.  Edith was an avid seamstress and loved sewing.  She was a longtime member of Most Precious Blood Catholic Church and served on the funeral lunch committee.
Edith is survived by her sons, Stephen (Connie) Manske, Waupaca; Timothy Manske, New London and a daughter Mary (Peter) Zahorai, Cleveland, Ohio; five grandchildren, Stephanie (Brad) Kiefer, Melissa (Eric) Leach, Steven Zahorai, Matthew Zahorai and Marnie Parse; eight great-grandchildren: Myles, Logan, Nathan, Cymbirley, Paige, Maile, Jordan and Ryan and three great-great-grandchildren, MacArthur, Eoghen  and Colton. She is also survived by other relatives and friends.
Her parents, husband and two sisters, Eleanor Olsen and Frances Engel preceded her in death.
Funeral Mass for Edith will be held on Thursday, April 26, 2018 at 11:00 a.m. at Most Precious Blood Catholic Church, New London with Fr. John Kleinschmidt officiating.  Visitation will be held at the church on Thursday from 9:00 a.m. until the time of service.  Burial will be in the New Maple Creek Cemetery.