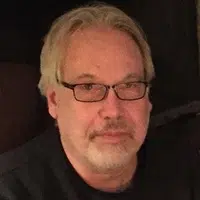 Bryan W. Sperberg, age 60 of Clintonville passed away Saturday, April 14, 2018 at his home.
Bryan William Sperberg was born on February 11, 1958 in Crystal Falls, Michigan, to Gordon and Phyllis (Schneider) Sperberg.  After his father passed away in 1968 the family settled in Clintonville and he graduated from Clintonville High School in 1976.  Bryan went on the FVTC to earn an associate's degree in Auto Technology.  He was united in marriage on June 8, 1985 to Lori B. Kriegel at Zion Lutheran Church, Tigerton.  Bryan was manager of Valley Auto Supply in Marion from 1978 to 1994.  Then he purchased the auto parts business, renaming it Marion Auto Supply, and owned it from 1994 to 2012.
Bryan was a longtime member of St. Martin Lutheran Church where he served on the Board of Elders and as an Usher.  His interests included being outdoors whether it was hunting, walking in the woods, or spending time at their cottage on Lake Superior near Sault Ste. Marie.  Bryan was an excellent cook, liked gardening and canning, and especially enjoyed making strawberry and raspberry jam.  His other hobbies were wood working, collecting coins, and watching scary movies.  Bryan was an avid reader mostly of non-fiction books.  He cherished the time spent with all of his nieces and nephews, but especially Matthew and Mariah whom he helped take care since they were babies.  Bryan will be remembered most as a caring person who liked to joke around and spend time with the kids and his Springer Spaniel Copper.
Survivors include his wife of 32 years, Lori; and four brothers, Gale Sperberg of Clintonville, Kevin (Holly) Sperberg of Kronenwetter, Gregory Sperberg of Marion, and Thomas (Charlene) Sperberg of Clintonville.  There is one sister-in-law, Dianne Kriegel of Tigerton.  There are 12 nieces and nephews:  Jacob (Becky) Sperberg, Nikolaus Sperberg, Erica (Mark) Haas, Kayla Sperberg, Kristin Sperberg, Taylor Sperberg, Heather (friend Tony Jeske) Ritchie, Michelle (Tom) Loberg, Bill (Sherri) Kriegel, Joe (Dawn) Kriegel, Andy (fiancée Shannon) Kriegel, and Jessica (fiancé Chuck) Kriegel.  He is further survived by numerous great nieces, great nephews, other relatives and friends.  Bryan is preceded in death by his parents and a brother-in-law H. William "Bill" Kriegel Jr.
Funeral Service will be held on Saturday, April 21st at 11:00 AM at St. Martin Lutheran Church, Clintonville.  Rev. Christian Burg will officiate and burial will be at a later date at Graceland Cemetery, Clintonville.  Friends may call on Saturday from 9:00 AM until time of service at the church.  The Beil-Didier Funeral Home, Clintonville, is assisting with the arrangements.