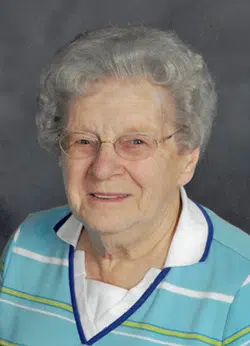 Mildred Caroline Ritchie Gore, age 95, of New London, passed away peacefully surrounded by her loving family on Sunday, April 8, 2018 at Care Partners in Hortonville.  Millie was born on March 14, 1923 in the Township of Bear Creek to the late Fred and Lena (Hanson) Gehrke.  She attended Silver Creek grade school and Clintonville High School. At the age of 14, her mother passed away, at which time she became the primary caregiver for her family.  On February 14, 1950 she married Zona Ritchie.  Together they owned a country store and later a family farm.  They spent 21 years together.  He preceded her in death in September 1971.  Millie spent 12 years with Don Gore and they married in 1985.  He preceded her in death in August 1987.  She had a strong work ethic that began early on working various jobs.  Millie was a member of various community card clubs, the ladies auxiliary, she was a quilt maker, wedding cake maker and above all she was a compassionate caregiver, who loved people and opened her door to anyone.  She raised 7 children, while running a family farm. As the children got older, she went back into the workforce.  Her jobs included working at Glass Fab, The Pine Tree Supper Club and also Hillshire Farms, from where she retired.  In retirement, she remained active playing cards, traveling, volunteering, and baking.  She was known throughout the community for sharing her amazing baked goods!   Millie was the president of an employee union, also president of Royal Neighbors and was awarded the "Key to the City" on her 90th birthday.  She also volunteered for Meals on Wheels and was in charge of Monday Night Card Club.  Millie was a lifelong member of Most Precious Blood Catholic Church in New London.
Millie is survived by her 7 children, Shiela (special friend Dennis) Kahler, Barry (Cindy) Ritchie, Patty (Jon) Lathrop, Joan (Russell) Fenske, Bernie Ritchie, Marcia (Doug) Flease and Norma (Jim) Gerhardt; grandchildren, Justin (Brooke) Kahler, Alisa (Timothy) Christianson, Aaron (special friend Sarah) Ritchie, Jessica (Jamie) Daun, Jess (Nicki) Lathrop, Jason (Brenna) Lathrop, Joshua (Robin) Lathrop, Katie Fenske, Kimberly (special friend Clay) Fenske, Anton, Noah and Nick Ritchie, Ashley (Travis) Schulke, Amy (Zach) Bellile and Andrea Flease and Eric, Alex, Isaac and Owen Gerhardt and great-grandchildren, Everett, Beckett, Tyler, Aurora, Trista, Avery, Carson, Dakota, Jovie, Brayson, Jaden, Jordan, Alana, Arah and Emerson.  Millie is further survived by numerous nieces, nephews other relatives and many friends.
Millie was preceded in death by her parents; her first husband, Zona; her second husband, Donald; granddaughters, Crystal Ritchie and Andrea (Vruwink) Ritchie; son-in-law, Ralph Kahler; brothers, Robert and Harold (Laverne) Gehrke; in-laws, Elmer (Meta) Ritchie, Vera (Bert) Lorge, Donald (Lillian) Ritchie, Mathias (Eva) Ritchie, Leonard (Hilda) Ritchie, Ray (Sylvia) Ritchie, Odena (Ferrell) Reed and Mark Griffin.
A Mass of Christian Burial for Millie will be held at 11:00 a.m. on Saturday, April 14, 2018 at Most Precious Blood Catholic Church in New London.  Fr. John Kleinschmidt will be officiating.  Visitation will take place directly at the church from 8:00 a.m. until the time of the service on Saturday.  Burial will be in Most Precious Blood Catholic Cemetery.
The family wishes to extend a special thank you to those who provided Millie with transportation and entertainment to various community activities.  A special thanks also to Christopher Klimek PA-C from ThedaCare and also the staff at Care Partners in Hortonville for their wonderful care and compassion shown to our mother.
In lieu of flowers a memorial fund has been established.
"Mom, now we know why everyone calls heaven so beautiful- because it has our mother.  We miss you!"  -Millie's family
The family is being assisted by Cline & Hanson Funeral Home in New London