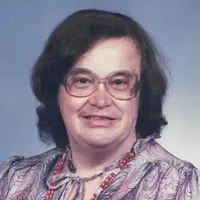 Barbara G. Spiegel, age 68, of Tigerton passed away early Wednesday morning, April 4, 2018 at ThedaCare Regional Medical Center, Appleton.
The former Barbara Gail Griepentrog was born on October 2, 1949 in Whitcomb (Town of Wittenberg, Shawano County) to Everald and Selma (Kauffman) Griepentrog.  She graduated from Tigerton High School in 1967.  Barbara was united in marriage on September 4, 1971 to Everette L. Spiegel at Zion Lutheran Church, Tigerton.  Barbara waitressed for her parents for many years at the Tigerton Hotel and Ev & Selma's Café.  She worked at Witt's Sausage Haus – Meats & Groceries of Shawano for close to 20 years.  Due to her health, Barbara was forced to retire in her late 50's.
Barbara was a member of Grace Communion International Church, Wausau.  She enjoyed knitting countless mittens and slippers for the church mission project.  Her other interests included solving crossword puzzles, crocheting afghan blankets, and working on jigsaw puzzles.  Barbara was an avid reader and also liked her sweets, especially chocolate.  She will be remembered most as a devoted wife, a loving mother, and a proud grandmother.
Survivors include her husband of 46 years, Everette; and three sons, Scott Spiegel of Tigerton, Everette (friend Cindy Holden) Spiegel of Tigerton, and Shawn Spiegel of Merrill.  There are three grandchildren; Trinity, Star, and Spencer.  She is further survived by a sister, Betty (Clifford) Luedtke of Fremont; six brothers-in-law, Robert Frank of Tigerton, Tom Gauthier of Clintonville, Arden (Judy) Spiegel of Menasha, Lyle Spiegel of Tigerton, Gordon Spiegel of Tigerton, and Norb (Amy) Spiegel of Oshkosh; and many other relatives and friends.  Barbara was preceded in death by her parents, her step-father Elmer Neubauer, and two sisters Evelyn Frank and Joan (George) Wilkinson.
Funeral Service will be held on Saturday, April 7th at 12:00 Noon at Beil-Didier Funeral Home, Tigerton.  Lynne Pahl will officiate and burial will be at Union Cemetery, Tigerton.  Friends may call on Saturday from 10:00 AM until time of service at the funeral home.