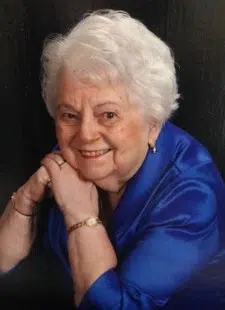 Dorothy Ann O'Connor, age 96 of Clintonville, passed away Saturday morning March 24, 2018 in Clintonville with her family at her side.
Dorothy was born February 4, 1922 in the Township of Bear Creek as the daughter of the late Robert & Laurena (Weller) Neely. She graduated from Clintonville High School in 1939 and from Oshkosh Business College in 1941. Dorothy then began working for the Four Wheel Drive Corp. in Clintonville as a an Administrative Assistant until 1946. She was united in marriage to Francis O'Connor on May 24, 1944 in Bear Creek. The couple were members of St. Rose Catholic Church in Clintonville where Dorothy was a member of the PCCW and prior to her death was the oldest member of the congregation. Dorothy's husband Francis, preceded her in death on September 12, 1990. Dorothy's greatest enjoyment was spending time with her husband, family, grandchildren, & great-grandchildren. She always enjoyed being involved in family activities and centered her life around God and her Faith. Dorothy continued to be involved in sewing and craft projects and loved to play bridge with her many friends.  She touched many peoples lives, with her gentle ways, kind words and her passion for life. She will be greatly missed by her entire family.
Survivors include:
Her 6 Daughters: Betty (Robert) Jepson, Elk Mound; Mary Pat O'Connor, Neenah; Margaret "Muggs" (Perry) Schroeder, Clintonville; Kathleen (Ronald) Schmoll, Clintonville; Ann (Donn) Knapp, Clintonville; & Lorie (Robert) Knaus, Oshkosh.
2 Sons: Michael and Gerry (Pam) O'Connor, Clintonville.
Grandchildren: Bridgette (Doug), Bart (Colleen), Brenda (Marvin), Bridger (Nalee), Neely (Landon), Chase (Liz), Francie (Cory), Clint (Tiffany), Ron Jr., Travis (Tammy), Brittany (John), Riley (Ashley), Cody (Kayla), Tom (Erin), Joe (Lizzy), Allie (Ethan), & Connor(Miranda).
Great-Grandchildren: Jake, Carley, Christopher, Nicholas, Jacqueline, Brittany (Melissa), Maverick, Audrey, Clark, & Charlotte.
Dorothy was preceded in death by her parents, husband Francis, and infant sons; Robert & Joseph.
Dorothy's Mass of Christian Burial will be held Wednesday, March 28, 2018 at 11 AM at the St. Rose Catholic Church in Clintonville with Fr. Jack Mullarkey & Deacon Lincoln Wood officiating. Interment will follow at the St. Rose Cemetery in Clintonville. Friends may call at the Eberhardt-Stevenson Funeral Home & Crematory in Clintonville on Tuesday from 5 – 8 PM, with a prayer service beginning at 7:30 PM. Visitation will continue at the church on Wednesday from 10 AM until the time of the service. In lieu of flowers a memorial fund will be established for her charity of choice. An online guestbook can be found at www.eberhardtstevenson.com
Dorothy's family would like to thank all of her special friends and caregivers she has had over the years.