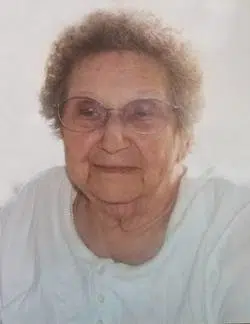 Dorothy Pauline Rosenberg, age 98, of Shawano, passed away on Monday, March 19th, 2018 at Pine Manor Nursing Home. Born in Shawano on January 10th, 1920, to the late William Bert and Emma (Schoenik) Hottenstein. On September 3rd, 1938, Dorothy was united in marriage to Carl Robert Frank Rosenberg.  They planted their roots in Shawano, where the couple built their home.  They ran the bar in Lunds for several years in the 1970's. Her other occupations included: school bus driver, laborer at the canning factory, as well as a short stint with the carnival. She was a member of Zion Lutheran Church of Shawano.  She was always up for a game of cards, and loved teaching her grandchildren and great grandchildren how to play as well.  No one ever left her home with an empty belly if she had something to say about it. She loved spending time with family and loved going to the Shawano fair every summer.
Dorothy is survived by her six children: Maynard (Annette) Rosenberg, Nancy (Wayne) Zogleman, Edward (Nadine) Rosenberg, Maryann (Jerry) Justman, Michael (Judy) Rosenberg, and Ricky (Julie) Rosenberg. There are 15 grandchildren: Kelli Jackson, Kevin (Cherie) Zogleman, Wendy (Duane) Hafner, Doug (Susan) Rosenberg, Deann (Patrick) Heath, Shawn (Cody) Bell, Scott (Blaze Garcia) Rosenberg, Amy (Aaron) Schuld, Jaqueline (William) Spaciel, Jason (Katie) Justman, Christie (Matthew) Hietpas, Michelle (Jody Cleveland) Rosenberg, Michael "Buck" (Dana Knaack) Rosenberg Jr., Kyle (Casey) Rosenberg, and Kari Rosenberg. As well as 22 great grandchildren: Alexandria Heath, Trik Heath, Jacob (Jordan) Coe, Megan Coe, Samuel Coe, Danielle Hafner, Noah Bell, Jordyn Bell, Carson Hietpas, Jaelyn Hietpas, Logan Hietpas, Joshua Zogleman, Timothy Zogleman, Syndney Spaciel, Emma Spaciel, Zachary Spaciel, Dylan Schuld, Haila Schuld, Amanda Schuld, Evan Schuld Amanda (Jacob) Ritchie, and Emily Jackson. There are three great-great grandchildren: Jade, Jameson, and Carter.
She was preceded in death by: her husband, Carl (1978), her parents, Emma and William Bert, her son, William "Bill" (1980) and her grandson Randy Rosenberg (1981). Her siblings: Marie Sickinger, Oliver Hottenstein, Arnold Hottenstein, Charles "Butch" Hottenstein, Syllivan Hottenstein, Carrie Rosenow, and her infant sister, Catherine.  Also, her longtime companion, Jim Giese.
The funeral services will be held at Swedberg Funeral Home in Shawano on Saturday, March 24th, 2018 at 5:00 pm. Burial will be in Woodlawn Cemetery in Shawano.  Visitation will be held at the funeral home from 3:00 – 5:00 pm.
The family would also like to extend our deepest appreciation to the Pine Manor Nursing Home staff.