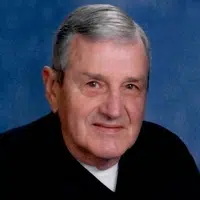 Richard M. Ziereis, age 86, of Embarrass passed away Wednesday, March 14, 2018 at Pine Manor Health & Rehabilitation Center, Embarrass.
Richard Michael Ziereis was born on May 1, 1931 in the Town of Mountain, Oconto County, to Michael and Frances (Shorejs) Ziereis.  He was raised and attended school in the Town of Mountain area.  Richard entered the U.S. Army and served stateside as a truck mechanic at Fort Bragg, NC, from 1949 – 1953 during the Korean War.  He was united in marriage on July 24, 1954 to Agnes V. Giese at St. Michael's Catholic Church, Suring.  The couple settled in Embarrass and they were blessed with seven children.  Back in the early 1970's Richard and Agnes bought the old Zion Lutheran Church; moved it to County Road Y and renovated it into a duplex that the couple lived in for so many years.
From 1958 to 1978 he was employed as a machinist at FWD Corporation, Clintonville.  The couple also owned & operated the Shamrock Club tavern on Grass Lake from the late 1970's to the mid 1980's.  In 1960 he started Dick's Auto Body on Main Street in Embarrass.  It was a successful auto body business and he rebuilt numerous vehicles before retiring in 2007.
Richard was a longtime member of St. Rose Catholic Church, Clintonville, where he actively served as an usher and with the Building & Grounds Committee.  He is a former volunteer firefighter with the Embarrass Fire Department.  Richard was a member of the VFW Post 664 and the American Legion Post 63, both of Clintonville.  His hobbies included hunting, trout fishing, trap shooting, throwing horseshoes, and playing cards, especially sheepshead and cribbage.  Over the years, Richard went on some wonderful trips to Colorado, Wyoming, Alaska, and Hawaii.  But he really liked camping at Lac Vieux Desert Campground in Land O' Lakes and spending time with relatives at Anderson Lake.  Richard will be remembered most as a devoted husband, a loving father, and a proud grandfather.
Survivors include his wife of 63 years, Agnes; and six children, Cathy Ziereis-Fischer of Clintonville, Richard (Natasha) Ziereis Jr. of Helena, MT, Terry Ziereis of Clintonville, John (Beth) Ziereis of Embarrass, Donna (Craig) Ford of Clintonville, and Karen Ziereis of Denver, CO.  There are 12 grandchildren, 14 great grandchildren, and 1 great-great granddaughter.  He is further survived by many other relatives and friends.  Richard is preceded in death by his parents, a son Mark, granddaughters Katie and Amanda, grandson Michael, son-in-law John Fischer, three sisters, and one brother.
Memorial Mass will be held on Friday, March 23rd at 11:00 AM at St. Rose Catholic Church, Clintonville.  Fr. John "Jack" Mullarkey will officiate and inurnment will be in the parish cemetery.  Military Honors will be provided at church by members of the VFW Post 664, American Legion Post 63, and American Legion Auxiliary Unit 63, all of Clintonville.  Friends may call on Friday from 9:00 AM until time of mass at the church.  Beil-Didier Funeral Home, Clintonville, is assisting the arrangements.  In lieu of flowers, memorials are preferred to St. Rose Catholic School or Church.
The family wishes to thank the nurses and staff at ThedaCare Clinic, Shawano, especially Dr. Michael Williams for the love and compassion provided to Richard.