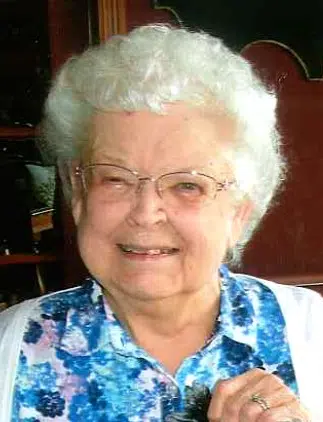 June Faye (Hitzke) Wege age 89 of Clintonville, WI passed away on Thursday March 8th, 2018 at Country Villa Assisted Living in Freedom, WI surrounded by her family.
June was born on June 29, 1928 in the Town of Lebanon Waupaca County, on the family farm west of Clintonville, WI, daughter of the late Leonard and Cora (Miller) Hitzke. On October 15, 1949 June married Kenneth O. Wege at Christus Lutheran Church in Clintonville, WI. As a longtime member at Christus, June served the congregation faithfully as their organist for over 50 years playing for many funerals and weddings. She was very musically talented and aside from playing the piano and organ, she also loved playing the accordion. June played in the family orchestra and in a band with her sisters and several other bands. She often commented that she had played organ or piano at every church in town over the years as she was always willing to fill in where needed. June also taught piano lessons, was a wonderful homemaker, and a great cook. She was in a Canasta card club and a member of the Waupaca Old Car Club. June was a Christian woman and loved talking about her family.
She is survived by her children; Connie (Gary) Lendved, Kaukauna; Kevin (Lynn) Wege, Beloit;
5 grandchildren: Rory (Kara) Lendved, Appleton, WI; Laura (Fiance Jeff Wieners) Lendved, Tampa FL; Whitney (Andy) Eichholz Appleton; Kamey (Barry) Doetch Poplar Grove, IL; Will Wege Beloit.
2 great-grandchildren: Ethan and Emma Lendved.
Her sister-in-law Joyce Hitzke.
June was preceded in death by her husband Kenneth, parents, sisters Joyce Hitzke Lozier & Dorothy (Joseph) Daley, and brothers Jack & Norman Hitzke.
Funeral services for June will be held at 11 A.M. on Tuesday, March 13, 2018 at Christus Lutheran Church in Clintonville with the Rev. Brian Crocker officiating.  Interment will take place at the Union Cemetery in Symco, WI. Friends may call at the church on Tuesday from 9:30 AM until the time of the service. The Eberhardt-Stevenson Funeral Home & Crematory of Clintonville is assisting her family. www.eberhardtstevenson.com
June's family would like to thank Tina, Gina, Sandra, Ken & the entire staff at Country Villa as well as Mary from Heartland Hospice for their compassionate care of June during her stay.