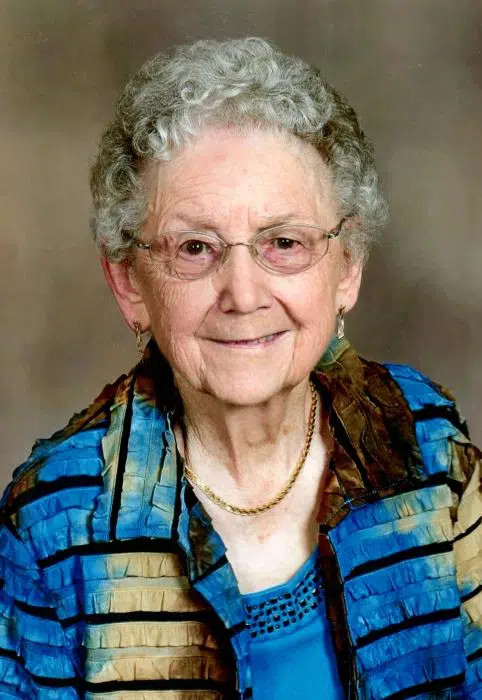 Bernice "Bernie" V. Behnke, age 98 of Clintonville, went to her heavenly home on March 8th, 2018 at the ThedaCare Medical Center in Appleton.
Bernice was born Jan. 21st, 1920, in the Township of Union, Waupaca County, WI, to the late Max & Ida (Krueger) Hein. She was baptized at St. Mark's Lutheran Church, Symco & confirmed at Trinity Lutheran Church, Bear Creek. She graduated from Clintonville High School in 1937, and grew up in rural Waupaca County. On November 2, l946, Bernie was united in marriage to Clarence Behnke, at Trinity Lutheran Church, Bear Creek. After graduation, Bernie worked at the F.W.D., Clintonville, until her marriage. Then, she and her husband, Clarence farmed in the township of Bear Creek until retirement when they moved to Clintonville. She was secretary for Trinity & Grace Lutheran churches for 20 years. Bernie was a member of Trinity Lutheran Church where she was involved with the Ladies Aid.  She was a member of the Marble Homemaker's Club for 61 years.  Bernie loved sewing, made beautiful quilts & wall hangings, & her sewing talents won many awards. She also, enjoyed playing cards with family & friends.
Bernie was a loving mother, grandmother, great-grandmother and friend. She will be greatly missed by sons, Leon (Mary) Behnke, Appleton, Mark (Debbie)
Behnke, & Robert (Debra) Behnke, Clintonville, Grandchildren, Christopher (Lisa) Behnke, Hortonville, Leanne (Craig) Havertape, Cottage Grove, Kimberlie (John) Eggleston, Phelps, Jason (Kayla) Behnke, Joshua(Jodi) Behnke, Clintonville, Jennifer Behnke, Schaumberg, IL & Brooke Behnke, Milwaukee.  Great-grandchildren, Isaac, Solomon, & Selah Behnke, Siera & Maleea Eggleston, Josie, Callie, Braiden, & Brody, Behnke, Jake & Courtney Havertape.
Other survivors include sisters: Betty Wisnefske, Clintonville, Joyce Hoffman, New London, a niece who was more like a sister Angie Kamba, New London, sister-in-laws, Joyce Vissers, Little Chute, Marjorie Hicks, Clintonville, Nancy Hein, LaCrosse,  Shirley Hein, Beverly Behnke, & Ann Behnke, Clintonville, Frances Rutherford, Wausau, nieces, nephews, and many relatives & friends.
Bernice was preceded in death by her husband, Clarence in 1998, her parents; Max & Ida Hein, five brothers, Marvin (Jeanette) Hein, Lyle, Arlyn, Elroy & James Hein, four sisters, Laura (Clarence) Wisnefske, Eleanor (Marvin) Wendt, Evelyn (Louie) Bonke & Mildred Hein, Brothers-in-law, Milton Wisnefske, Arlyn Hoffman, Dennis Vissers, Gene Hicks, Charles (Helen) Behnke, Harold, Donald, Orland & Glenn Behnke, Sisters-in-Law, Margaret (Roland) Gielow, Marcella (Ervin) Fietzer, Myrene (Leonard) Schmallenberg, & Norma (Delbert) Owen.
The family wishes to thank the Doctors and staff at Appleton Medical Center for their care and kindness.
Funeral services will be held at 11 AM on Monday, March 12, 2018 at Trinity Lutheran Church, Bear Creek, WI with Rev. Aric Fenske officiating.  Visitation will be at church on Monday from 9 AM until the time of the service. Burial will be at Graceland Cemetery, Clintonville at 1:30 PM following the luncheon. The Eberhardt-Stevenson Funeral Home & Crematory of Clintonville is assisting her family. www.eberhardtstevenson.com. In lieu of flowers memorials would be appreciated for the Trinity Lutheran Church.