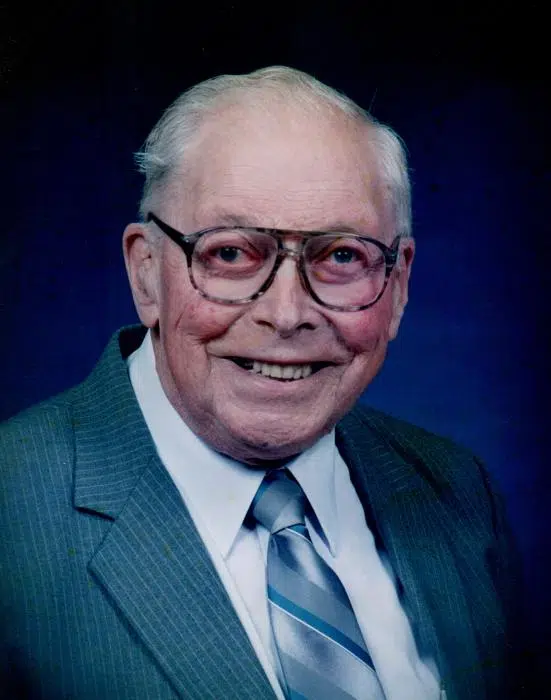 Edward "Ed" G. Dunlavy, age 95 of Clintonville, passed away peacefully at his home surrounded by family on Friday evening, March 2, 2018.
Edward was born in Lebennon Township May 8,1922 to George and Anna (Klatt) Dunlavy. They moved to their farm in Clintonville in 1943. Ed began working at FWD in 1951 along with farming. He officially retired from the drive and farming in 1987. Ed believed in hardwork and his catholic faith. He was united in married with Viola Schmitz May 24, 1952. Ed had enjoyed various hobbies including water skiing, hunting, snowmobiling, motorcycling, along with playing saxophone at weddings with a polka band he belonged to. He was very involved in his church and his community. Ed served as a member of Knights Columbus, lector in church, Lay minister, as well as a CCD Teacher. He was a member of St.Mary's Catholic Church Marion, WI. During Ed's final years he enjoyed the company by his many friends and family, mowing lawn, and sitting on his deck watching the birds.
Ed is survived by his two sons; Leo and David Dunlavy both of Clintonville. A grandson; Andrew (Kelsey) Dunlavy of Marathon City, WI and three granddaughters; Jill (Kyle) Krejci of Willard,WI; Stephanie Dunlavy of Duluth,MN; and Katie Dunlavy Chippewa Falls,WI. He is also survived by many neices,nephews, cousins and sisters in law Lorraine Krause of Fon Du Lac, WI and Lenore Dunlavy of Neenah, WI.
Ed is proceeded in death by; his beloved wife of 49 years; Viola Dunlavy. His parents George and Anna Dunlavy. His brother John Dunlavy and Sister Dorothy Kort.
Edward Dunlavy's family would like to thank everybody who took part in fulfilling his wishes of staying home where he built a wonderful life. Special thank you to Affinity Hospice, including Penny Sue and Lisa. A very special thanks to Ed's caregivers Rose Hagen and Pam Diemel. Also to Chris and Bruce Jung for always being there to help us through this journey. He appreciated you all so very much.
Thank you to Deacon Mike Brandt for stopping in weekly to pray with Ed, he always enjoyed his visits with you.
Edward will be greatly missed by many friends and family especially his sons and grandchildren. You meant the world to them. You taught us so much about living life to the fullest. We love you Grandpa.
Mass of Christian Burial will be held for Edward on Saturday, March 10, 2018 at 11 AM at St. Mary's Catholic Church, 725 NE 7th Street, Marion, WI with Fr. McElroy O. Praem officiating. Interment will take place at St. Rose Cemetery in Clintonville in the spring. Friends may call at the church on Saturday from 9 AM until the time of service. A memorial fund will be established by Edward's family for the St. Mary's Catholic Church. The Eberhardt-Stevenson Funeral Home & Crematory of Clintonville is assisting his family with the arrangements. www.eberhardtstevenson.com