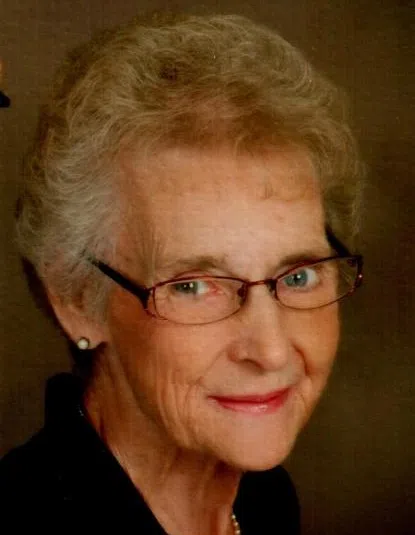 Dorothy Marion (Kuschel) Egdorf, age 80 of Marion, passed away unexpectedly Sunday morning, March 4, 2018 at the Greentree Health & Rehabilitation Center in Clintonville.
Dorothy was born on January 22, 1938 in to the late Frank and Lillie (Ebert) Kuschel. She grew up on a farm in rural Clintonville and was a graduate of Clintonville High School. After graduation, she worked as a secretary for Aid Association for Lutherans in Appleton. On July 13, 1957 Dorothy was united in marriage to Marlo Egdorf. The couple resided in Marion and together they raised 3 children. Dorothy also worked as a secretary for Marion Body Works for 28 years. She was a very talented lady and an excellent seamstress sewing many outfits for her grandchildren, wedding dresses, alterations and enjoyed doing embroidery. Dorothy could knit, crochet, and upholster. She loved to cook, bake, and had a green thumb too. Her yard was filled with beautiful flowers and vegetables and also included a huge grape vine that she used to make jelly to give to family and friends. She was actively involved with Wolf River Harmony. Dorothy was a life long member of St. Martin Lutheran Church in Clintonville where she was very active in the ladies aid, choir, and enjoyed contributing her time wherever needed.
Survivors include:
Her daughter: Sue (Phil) Brickner, Wausau
Her sons: Douglas Egdorf, Marion
David (Lori) Egdorf, Caroline
Her grandchildren: Haley (Joe) Kosmerchock; Sam (Melissa) Egdorf; Dustin Egdorf; Terri (Jacob) Graham; & Taylor Egdorf
Her great-grandchildren: Joe, Julia, Jillian, Jayden, & James Kosmerchock; Aubrey & Sadie Egdorf; & Baley Cummings
Brother: Robert (Jean) Kuschel
Sisters: Judy Olson & Karen (Ralph) Young
Sisters-in-law: Mildred & Verna Kuschel.
Also her pet cat and companion: Tony.
Dorothy was preceded in death by her parents, husband Marlo, a son Daniel, and brothers; David & Ronald Kuschel.
Dorothy's funeral service will be held 12 PM Thursday March 8, 2018 at St. Martin Lutheran Church, Clintonville with the Rev. Christian Burg officiating. Interment will take place at St. Martin Lutheran Cemetery, Town of Larrabee in the spring. Friends may call at the Eberhardt-Stevenson Funeral Home & Crematory in Clintonville from 4 – 7 PM Wednesday and at the church on Thursday from 11 AM until the time of the service. In lieu of flowers memorials for Dorothy may be directed to St. Martin Lutheran Church or School.
Dorothy's family would like to express their sincere thanks to many people who cared for her throughout her life including the Erik Johnson family, relatives, and friends. Also gratitude to the staff at Greentree and the many doctors and nurses at St. Elizabeth Hospital in Appleton.