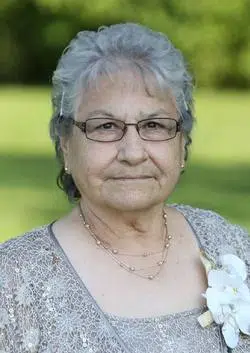 Antionette Mae "Tudy" Wilber, age 71, of Keshena passed away surrounded by her family on Sunday, March 4, 2018 in Appleton. Tudy was born in Keshena on February 21, 1947, the daughter of the late Alex and Sarah (Warrington) Waupoose.  She graduated from Shawano High School in 1965.  On September 9, 1967, Tudy was united in marriage to Warren Wilber in Keshena.  She is a veteran of the United States Army, serving during the Vietnam era.  Tudy has worked as an office manager at Keshena Primary School, Menominee Tribal Housing Authority, the College of Menominee Nation and finished her career at Menominee Indian Tribe.  She is a member of St. Michael Catholic Church in Keshena and the Veterans of the Menominee Nation.  Tudy enjoyed bear hunting, Harley rides, going for rides in the woods, working on puzzles and playing solitaire.  More than anything, she loved spending time with her grandchildren and her favorite saying was "I LOVE YOU MORE!"
Tudy is survived by: her husband of 50 years, Warren; children, Carrie Wilber, Tracy (Les Grignon) Wilber, Warren (Jen) Wilber, Jr, Michele (J.J.) Corn and Kala (Gene Newton) Wilber; 20 grandchildren; two great-grandchildren; three brothers and three sisters, Leila Rabideaux of Keshena, Rose Gengler of Keshena, Ivan Waupoose of Milwaukee, Lowell Waupoose of Keshena, Leatha (Greg) Grinhaug of Bowler and Jerome Waupoose of Keshena.  She is further survived by her sisters-in-law, Connie Waupoose, Sharon Waupoose and Jeanine Waupoose; in-laws, Joylen Whitney, Allen (Pam) Wilber, Martina (Richard) Frechette, Elmer (Dawn) Wilber, Ann Wilber, Renita (Roger) Corn, Richard (Juanita) Wilber, Daryl (Marcene) Wilber, Lynette Wychesit and Percy Lawrence; as well as numerous nieces, nephews, other relatives and friends.
She was preceded in death by: one grandson, Anthony James; her parents; and siblings, Gordon Waupoose, Sr., Delores Koszarek, Gloria Herrera, Romilda Wilson, Alex Waupoose, Jr, Leroy Waupoose, Irvin Waupoose, Sr., Everette Waupoose, Sr., Patricia Hayes, Xavier Waupoose, Vivian Waupoose, Edward Waupoose and Kenneth Waupoose; one foster sister, Louise Shephard; sister-in-law, Loretta Lawrence; brother-in-law, Robert Gengler.
Funeral services for Tudy will be held at 11:00 am on Thursday, March 8, 2018 at St. Michael Catholic Church in Keshena with Rev. Joel Jores officiating. Military honors will be conducted by the Veterans of the Menominee Nation and the American Legion Post #497.  Burial will be in the church cemetery.  Visitation will be held at the Father David Barrett Hall in Keshena from 2:00 pm on Tuesday, March 6, 2018 until the time of the services on Thursday.  A parish wake service will be held on Wednesday evening at 6:00 pm.