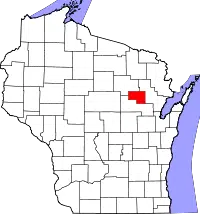 The Brave Island Bridge in Keshena is expected to re-open afternoon.
Menominee County Highway Department Jeremy Weso said the construction went as planned.
"The construction work went really well, there was about two-feet of ice there on the lake itself so it provided a very stable platform to work off of," Weso said.  "I went out there and looked at it yesterday, I was very pleased with the work they did."
The bridge was closed for periods this week while work was done on the underside of the bridge and a railing was also replaced.