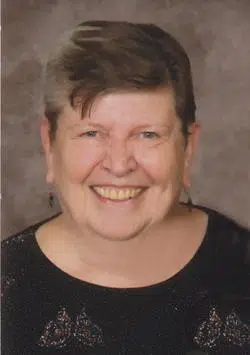 Helen Norma Jahnke, age 78, of Shawano, passed away on Friday, February 23, 2018 in Appleton. Helen was born in Slinger on February 12, 1940, the daughter of the late Arthur and Stella (Raschka) Rattenbach.  After graduating from high school Helen worked as a telephone operator in Milwaukee.  While working in Milwaukee she met her future husband, Gerald J. "Zeke" Jahnke.  The couple was united in marriage on November 28, 1959 in Hartford.  Zeke preceded her in death on March 28, 2014.  Together the couple had three daughters, Helen stayed home with her children until they began school.  For a short time Helen worked in a shoe store.  She later accepted a position as a CNA with Shawano Hospital and eventually became a ward clerk for the hospital until her retirement.  She continued to volunteer for various groups and organizations for many years.  Helen maintained her childhood pen pals throughout her life, continuing to add additional pen pals throughout the years.  These pen pals became her "extended family" and she cherished these relationships.  In her free time Helen enjoyed sewing and travelling.  She was a member of Peace United Church of Christ in Shawano.  Helen was a wonderful, loving mother and grandmother and will be deeply missed by all who knew and loved her.
Left to cherish her memory are: three daughters, Toni Jo Jahnke of Suamico, Bobbi Sue Luedtke of Shawano and Amy Lynn (Tony) Stuewer of Bonduel; seven grandchildren, Jesse (Abe) Lundt, Janet (Ben Rotter) Pericak, Angelia (Chris Johnson) Luedtke, Amanda Luedtke, Robin Osland, Erik (Samantha Roll) Stuewer and Erin Stuewer; 12 great grandchildren, Eve, Leigh, Sara, Kristina, Zoeie, Emily, Alize, Alisa, Skyler, Alice, Sophie and Mason.  She is further survived by her sister, Marjorie Margelowsky of Portage.
Helen was preceded in death by her husband, Gerald and her parents.
Funeral services for Helen will be held at 3:00 pm on Friday, March 2, 2018 at Peace United Church of Christ in Shawano with Rev. Marty Black officiating. Inurnment will be in the Union Cemetery in Slinger. Visitation will be held at the church on Friday from 1:00 pm until the time of the service.