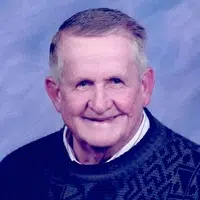 Gordon "Buck" Grenz, age 88, of Tigerton passed away Saturday, February 24, 2018 at Pine Manor Health & Rehabilitation Center, Embarrass.
Gordon Raymond Grenz was born on May 1, 1929 in a log cabin on his parent's farm in the Town of Grant, Shawano County, to Richard and Adella (Suehring) Grenz.  He went to Tigerton High School and then went on to graduate from the Milwaukee School of Television.  Buck's favorite baseball memory was playing for the 1st Tigerton team that won the 1953 BABA Grand Championship.  In 1954 Buck was married to Erma Verhasselt and the couple had three children before they separated.  He was a timber buyer for many years at Kretz Lumber Company, Antigo, and with Kersten Lumber Company, Birnamwood.  Buck also worked in Milwaukee as a car salesman and at Cutler Hammer.  He was united in marriage on June 20, 1997 to Linda L. O'Laughlin at Zion Lutheran Church, Tigerton.  The couple operated "Buck & Linda's Restaurant" in Tigerton for some years, retiring in the early 1990's.
Buck was a longtime member of Zion Lutheran Church where he actively served on Church Council and with the Zion Food Program.  In his early years, he enjoyed playing first base and in his later years he was an enthusiastic team manager for Tigerton Baseball.  He always loved the outdoors whether it was deer hunting, trapping mink, or trout fishing.  Buck especially liked going to Michigan with his son Jeff for walleye fishing.  Another passion every fall was hunting for wild ginseng as his father had taught him.
Survivors include his wife Linda; and four children, Cheryl (Ron) Hicks of Norfolk, VA, Jeannie (Doug) Czaplewski of Buffalo City, WI, Jeff (Judy) Grenz of Combined Locks, and Carla (friend Mark) O'Laughlin of Wyeville.  There are four grandchildren, Alexis Hicks, Ryan Czaplewski, Lucas (Kadi) Czaplewski, and Megan (friend Joe) Grenz.  There are two great grandchildren, Kamryn Heipp and Weston Czaplewski.  There are five sisters-in-law, Shirley Woyak of Wittenberg, Loah Horton of Tigerton, Peggy (Marlyn) Michaelis of Tigerton, Chery (Tom) Tauferner of Tigerton, and Sharon O'Laughlin of Oshkosh.  He is further survived by many other relatives and friends.  Buck is preceded in death by his parents; three sisters, Ruth Satre, Lillian Bowen, and Violet Grenz; and three brothers, Rueben, Orlen, and Norman Grenz.
Memorial Service will be held on Saturday, March 3rd at 4:00 PM at Zion Lutheran Church, Tigerton, with Rev. Sharon Fox-Bogen officiating.  Friends may call on Saturday from 2:00 – 4:00 PM at the church. The Beil-Didier Funeral Home, Tigerton, is assisting the family.
The family wishes to thank all the nurses and staff at Pine Manor and Compassus Hospice for the loving care given to Buck.