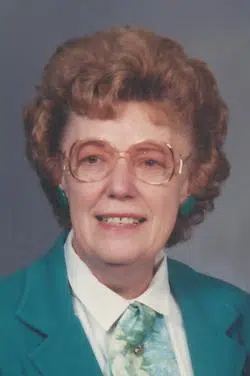 Emily Esther Knuth, age 88, of Town of Wescott passed away on Wednesday, February 21, 2018 in Shawano. Emily was born in Nepeuskum, WI on July 30, 1929, the daughter of the late Archie and Esther (Griese) Schroeder.  Emily was baptized and confirmed at Grace Evangelical Lutheran Church in Ripon. She graduated from Ripon High School in 1946.  On August 23, 1947, Emily was united in marriage to William Robert Knuth, who preceded her in death on April 30, 1991.  They lived in Appleton for 17 years where she was active in their children's school activities, as well as the PTA.  Emily has lived at Shawano Lake permanently since 1970, working 20 years at WTCH (Auntie Em) and then almost 20 years for the Shawano Chamber of Commerce.  She truly loved being with people.
In her younger years, Emily enjoyed dancing, traveling, boating activities, gardening and especially being with family and friends. Emily also enjoyed her "Auntie Em's Neighborhood Notes" program on the radio.  Emily was currently a member of Hope Community Church.  She loved the cats and dogs her children brought home, especially her current 4 legged baby, Kala.
Emily is survived by: her children, William (Cookie) Knuth, Jr. of Marinette, Rhonda Wagner of Shawano and Lori (Steve Erbrecht) Knuth of Shawano and; grandchildren, Anmarie Junion, Matthew (Stephanie) Knuth, Julie Mulder and Debbie Wagner; four great grandchildren, Tyler,  Alesiana, Lathan and Nick.  She is further survived four step grandchildren, including Brian Bunke of Shawano; best friend and sister-in-law, Bonnie Schroeder of Tempe, AZ; special nephews and nieces, Jerry (Tammy) Scheel of Appleton, Tim (Susie) Schroeder, Tammy (Neil) Schroeder and Paul Schroeder all of AZ; as well as many loving cousins, friends and neighbors.
She was preceded in death by her husband, William; one grandson, Bill Knuth; her parents; one brother, Archie, Jr.; one sister, Arlene (Ralph) Scheel; and sons-in-law, Richard Bunke and Thomas Wagner.
Memorial services for Emily will be held at 1:00 pm on Monday, February 26, 2018 at Swedberg Funeral Home in Shawano. Inurnment will be in the Woodlawn Cemetery in the spring.  Visitation will be held at the funeral home on Monday from 12:00 noon until the time of the service.
Mom, we miss you very much, but you are no longer in pain. You and dad are in our thoughts and prayers always.