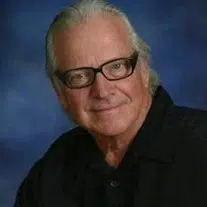 Dennis J. Borowski, age 68 of Shawano, passed away peacefully with his wife at his side early Sunday morning, February 18, 2018 at his home, following a brave fight against cancer.
Dennis was born February 19, 1949 in Milwaukee to the late Frank and Eleanor (Furtak) Borowski. He attended school in Milwaukee, graduating from Boys Technical High School in 1967.  Following school, Dennis was employed as a truck driver for 50 years, never having an accident or any infractions in over five million miles of driving.  On July 2, 2004, Dennis married his love, Dorothy Mae "Dottie" Joch in West Bend.  The couple enjoyed riding their Harley Davidson, and sharing their deep faith in the Lord.
Dennis is a loyal member of Sacred Heart Catholic Church, where he served a a Eucharistic minister.  He was passionate about his faith, and spent much time reading the Bible and praying with Dottie.  Dennis also enjoyed carpentry, watching and listening to the Brewer games on the deck, listening to Elvis Presley, and weight lifting.
He leaves behind his loving wife, Dottie; his children, Jesse (Gabbie) Borowski, Christopher (Cheri) Borowski, and Danielle Borowski; His stepsons, Peter LaSage and Timothy LaSage; his grandchildren and step-grandchildren, Jennifer, Ryan, Thomas, Caitlyn, Meghan, Tyler, Dominic, Emily, Brooklynn, Austin, Jade, Kenadie, and Stevie; his great-grandchildren, Carter and Addison; his sisters, Carol Johnstone, Diane (Clayton) Skebba, Rita (Larry) Babick, Margo (Brian) Olson, and Joan (Rick) Kobielske; and many nieces, nephews, and special friends.
A Memorial Mass for Dennis Joseph Borowski will be held on Tuesday, February 27, 2018 at 11:00 AM at Sacred Heart Catholic Church in Shawano.  Fr. Tom Farrell will be the Celebrant.  Inurnment will be at the Sacred Heart Catholic Cemetery at a later date.  Visitation will be held from 9:00 until Mass at 11:00 AM.  In lieu of flowers and plants, memorials are preferred in Dennis' name.
Mickelson Funeral & Cremation Service of Shawano is assisting the family with arrangements.  Please share online condolences at www.mickelsonfs.com.
"Dottie truly thanks Dr. Badine and his staff, as they became good friends, as well as the ThedaCare Cancer Team.  Also, special thanks to ThedaCare at Home Hospice for their superior care, especially Kristy Crum, Dennis' personal Hospice Case Manager and dear friend for her love and kindness."