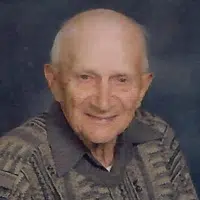 Kenneth A. Malueg, age 94, of Caroline passed away Monday, February 19, 2018 at ThedaCare Medical Center – New London.
Kenneth Albert Malueg was born on August 6, 1923 in the Town of Dupont, Waupaca County, to Emil and Lydia (Tornow) Malueg.  As a young man he helped out on his parent's dairy farm. Then he worked on various projects with the Civilian Conservation Corps (CCC) mostly in the Rib Mountain / Wausau area.  Ken was united in marriage on June 23, 1945 to Lois M. Lust at St. Mary's Catholic Church, Marion.  The couple lived in Milwaukee for a short time and he worked as a machinist at Allen-Bradley in Milwaukee.  In 1952 Ken and Lois settled in Caroline.  Ken drove milk truck for a short time for F.R. Buss Cheese Factory, Caroline.  He also worked awhile for the Beil family as a cheesemaker at Dupont Cheese Factory, Town of Dupont.  He was employed as a machinist at FWD Corporation for many years, retiring in the late 1980's.  His wife preceded him in death on March 19, 1999.
Ken was a longtime member of St. Mary's Catholic Church, Marion.  He was an active member of the Caroline Lions Club helping out with numerous projects and activities over the years.  He liked fishing, deer hunting, picking wild berries, and playing cards, especially sheepshead.  He always had a huge vegetable garden.  Ken was known to many as the "Sun Drop Kid".
Survivors include two daughters, Diane (James O) Krueger of Caroline and Debbie Mathewson of Tigerton.  There are five grandchildren; Sheryl (Tom) Kraeger, Brian (friend LuAnn Kennedy) Krueger, Stacey Krueger, Michelle (friend Paula Krueger) Krueger, and Melissa McAuley.  There are three great grandchildren; Justin (Tiffany) Kraeger, Tanner (friend Destiny Heschke) Krueger, and Karah (Joey) Taycher.  There are two great-great grandchildren, Jeremiah and Kyleigh Kraeger.  He is further survived by a sister, Joyce (Larry) Krolow of Tigerton; a brother, Gerald (Sonia) Malueg of Caroline; a sister-in-law, Mary Jo Malueg of Caroline; many nieces, nephews, other relatives and friends.
Ken is preceded in death by his parents, his wife Lois, a son Dennis Malueg, son-in-law, Elwood Mathewson; two brothers, Donald and Albert Malueg; five sisters, Ardis (Leonard) Fournier, Germaine (Cleon) Winter, Luella (Robert) Prey, Lydia (Raymond) Griffith, and June Steffek; and a sister-in-law, Norma (Richard) Marciniak.
Mass of Christian Burial will be held on Thursday, February 22nd at 11:00 AM at St. Mary's Catholic Church, Marion.  Fr. David McElroy will officiate and burial will follow in the parish cemetery.  Friends may call on Thursday from 10:00 AM until time of mass at the church.  The Beil-Didier Funeral Home, Marion, is assisting the family.