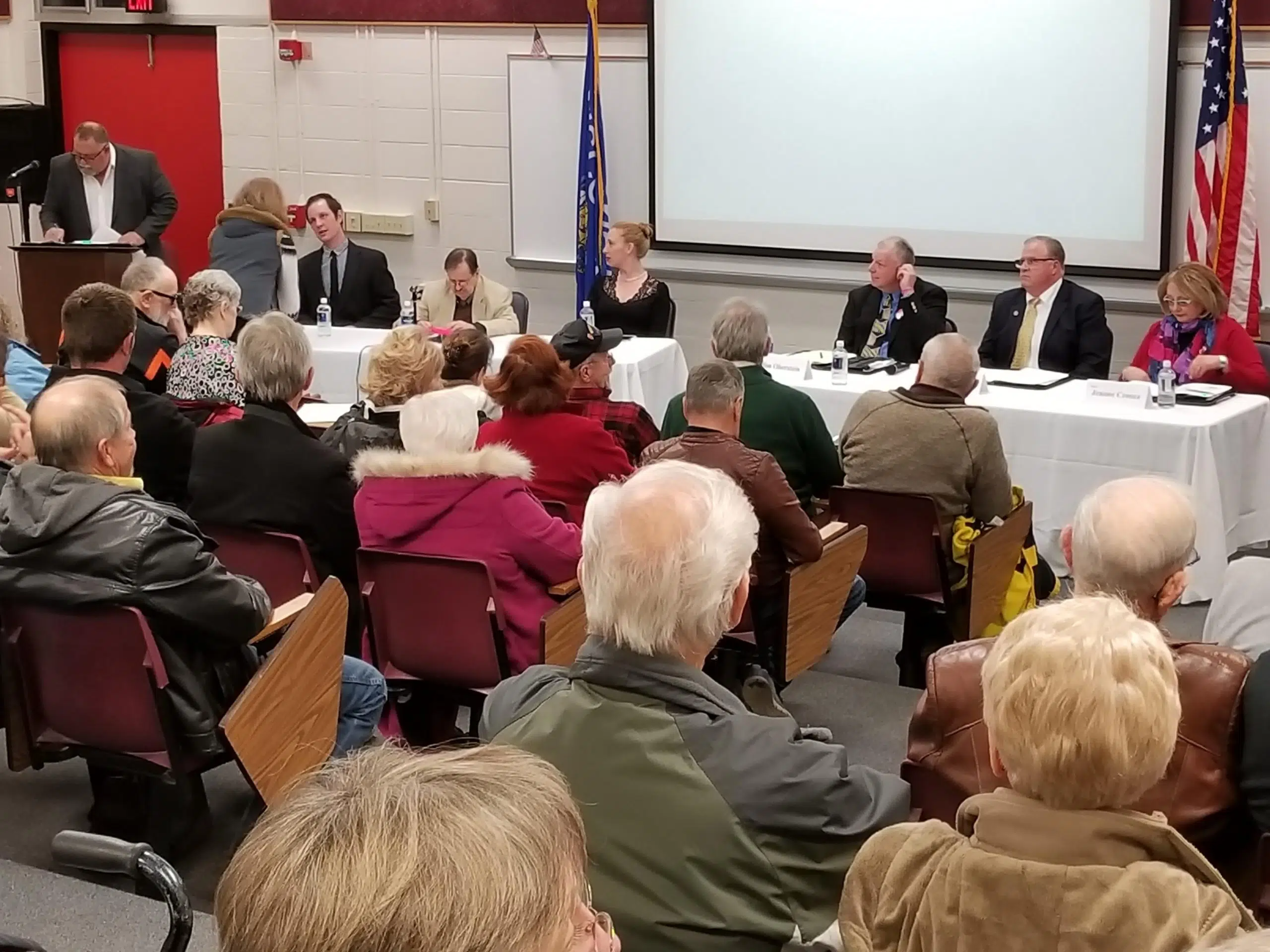 The Shawano mayor's race is down to two candidates: incumbent Jeanne Cronce and challenger Ed Whealon.
Cronce received 39 percent of the vote, with Whealon getting 34 percent. The two candidates will face off in the April 3 spring election.
Retired businessman Jim Oberstein finished third with 27 percent of the vote.
1,125 voters turned out in Shawano.
Cronce is wrapping up her first term as the city's mayor and has talked about her desire to see the redevelopment of downtown Shawano to completion.
Whealon is a retired police chief for the city of Shawano who, alongside is wife, is a small business owner of nearly three decades.  Whealon has expressed his desire to see the vacant buildings in downtown Shawano be filled.
Other election results:
Tyler Scmidt and Mart Grams advance in the Area 4 Shawano School Board Race.  Bruce Milavitz and Mart Grams move on in the school board's at-large primary.
In Waupaca County, Vance Knuth and Pete Bosquez advance in the District 21 primary.
The Shiocton School District passed two referendums.  One to exceed revenue limits to maintain educational programs passed with 72 percent of the vote.  The other was to issue up to 2-million-dollars on a multi-purpose sports facility, that passed at 67 percent.
In the state supreme court, Sauk County Circuit Judge Michael Screnock and Milwaukee County Circuit Court Judge Rebecca Dallet advance to the general election.  Madison attorney Tim Burns is eliminated.
Spring Primary Election–Shawano 
District
District
District
District
District
District
 
 
I
II
III
IV
V
VI
Total
 
Wards 1-2
Wards 3-4
Wards 5-6
Wards 7-8
Wards 9-10
Wards 11-12
Votes
JUDICIAL
JUSTICE FOR SUPREME COURT
REBECCA DALLET
79
41
51
49
64
80
364
MICHAEL SCRENOCK
103
79
74
77
95
105
533
TIM BURNS
29
32
17
23
24
39
164
MUNICIPAL
MAYOR
JEANNE CRONCE
102
64
49
61
93
74
443
ED WHEALON
74
45
51
60
51
98
379
JIM OBERSTEIN
55
49
49
38
50
62
303
.
SCHOOL DISTRICT
SCHOOL BOARD MEMBER
REPRESENTING AREA 4
MART GRAMS
54
37
31
39
41
39
241
TYLER SCHMIDT
113
84
78
83
101
150
609
STARLYN ROSE TOURTILLOTT
46
29
29
27
29
34
194
SCHOOL BOARD MEMBER
AT LARGE
MART GRAMS
47
52
43
44
50
70
306
BRUCE MILAVITZ
106
56
59
63
72
96
452
STARLYN ROSE TOURTILLOTT
58
31
37
32
46
48
252