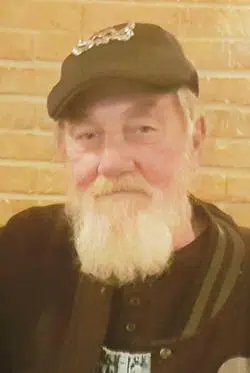 Olin Ray Conner, age 70, of Gresham died on Sunday, February 18, 2018 in Appleton with his family by his side. Olin was born on April 8, 1947 in Illinois to the late Woodrow and Bernice (Mack) Conner.  On November 19, 1977, Olin was united in marriage to Dolores Munson in Kenosha.  He worked in landscaping, plumbing and accounting and was truly a jack of all trades, always there, ready and willing to help out his family and friends.  Olin enjoyed building models, coloring, listening to music, especially Led Zeppelin and loved watching Svengoolie.  He enjoyed being in the outdoors gardening, surrounded by various plants, flowers and butterflies.  Olin was well known in Gresham from his work at the hardware store and the Panic Chamber Haunted House.
Olin is survived by: his wife of 40 years, Dolores; step-son, Joseph (Amy) Ponfil of Kenosha; step-daughter, Debra Marshall of AZ; grandchildren, Wenona (Will Vargas) Kelly of Merrillan, WI, Sydney Coffman of Gresham, Katie Ponfil of Kenosha and Lauren, Jerome and Maisen Marshall of IN; great-grandchildren, Maricella, Stone and James Olin.  He is further survived by two brothers, Tom (Paula) Conner of Kenosha and Mel (Sharon) Conner of Wild Rose; as well as numerous nieces, nephews, other relatives and friends.
He was preceded in death by: his son, Shawn Conner; step-daughter, Donna Coffman; and his parents.
A memorial service for Olin will be held at 2:30pm on Friday, February 23, 2018 at Swedberg Funeral Home in Gresham. Visitation will be held at the funeral home from 12:30pm until the time of the services.