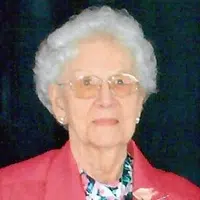 Arlene E. Roland, age 90, of Clintonville passed away Saturday, February 17, 2018 at Crossroads Care Center, Weyauwega.
The former Arlene Erna Schulke was born on July 12, 1927 in the Town of Lanark, Portage County, to Emil and Edith (Nowak) Schulke and was baptized at home.  Arlene was confirmed on May 18, 1941 at Emanuel Lutheran Church, Waupaca, by Rev. Reier.  She was united in marriage on April 19, 1947 to Rudolf "Rudy" Roland at St. Paul's Lutheran Church, Manawa, by Rev. Klug.  The couple lived in the Sugar Bush / Bear Creek area and farmed for over 23 years in the Town of Bear Creek.  She worked for several years at the Rainbow Supper Club and a few years at New London Hospital.  Then Arlene started doing home health care of individuals all around the New London, Manawa, and Clintonville area.
Arlene was an active member of Trinity Lutheran Church, Bear Creek.  She served on countless projects with the LWML and the Trinity Altar Guild.  Arlene was a longtime member of the Waupaca County Homemakers and volunteered with the Waupaca County Farm Bureau – Town of Bear Creek.  In the mid 1990's the couple settled in Clintonville.  After 60 years of marriage her husband preceded her in death on September 6, 2007.
Survivors include four children; James Roland of Sugar Bush, Gerald (Linda) Roland of New London, Mary (Steve Morlock) Kamp of New London, and Randal (Tammy) Roland of Manawa.  There are 13 grandchildren and 20 great grandchildren.  There are two sisters, Mildred Loken and Delores (Leroy) Armon; three sisters-in-law, Audrey, Janice, and Ellen "Pat" Schuelke; and many other relatives and friends.  Arlene is preceded in death by her parents, her husband Rudy; one sister Irene Heineman-Riesenberg; three brothers Gordon, Maynard, and Martin Schuelke; three brothers-in-law William Heineman, Roy Riesenberg, and Harlan Loken.
Funeral Service will be held on Friday, February 23rd at 11:00 AM at Trinity Lutheran Church, Bear Creek.  Rev. Aric Fenske will officiate and burial will be at Floral Hill Cemetery, New London.  Friends may call on Thursday from 4:00 – 8:00 PM at Beil-Didier Funeral Home, Clintonville, and on Friday from 10:00 AM until time of service at the church.
The Roland's would like to thank Pastor Fenske for all his visits and prayers for mom.  Thank you to special caretakers, Andrea, Stephanie, Rebecca, and Amber from Kindred Hearts in New London.  Furthermore, we truly appreciated the Heartland Hospice nurses; and all the staff at Crossroads Care Center, especially administrator Tim, for their exceptional care of mom and the family.