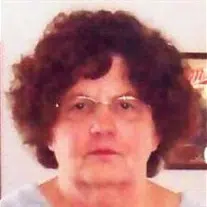 Aleen A. Kern, age 76 of Shawano, passed away Tuesday morning, February 14, 2018 at Birch Hill Care Center in Shawano.
Aleen was born January 26, 1942 in the Town of Wescott, a daughter of the late Ernest and Madeline (Schroeder) Geise. She attended school in Shawano, and following graduation she attended NWTC, and also went to beauty school. On July 20, 1960, Aleen was united in marriage to Roger Kern at St. James Lutheran Church in Shawano. Aleen worked as a nurse's aide at the Shawano Hospital, and later as an accounting assistant. She and her husband, Roger, owned and operated Kern's Superette in Cecil for four years. She is a member of St. James Lutheran Church in Shawano. She loved to paint and do crafts. She also enjoyed exercising at the Shawano Rec Center.
Survivors include her loving husband of 57 years, Roger, of Shawano; her sons, Brian (Latoria) Kern of Las Vegan, NV and Aaron (Lisa) Kern of Cudahy, WI; her grandchildren, Austin, Payton, Faith, James, and Tristan; two brothers and five sisters; and several nieces and nephews. She was preceded in death by her son, Paul Kern, in 2012.
Funeral services for Aleen A. Kern will be held on Tuesday, February 20, 2018 at 11:00 AM at St. James Lutheran Church in Shawano. Pastor Mark Baldwin will officiate. Interment will be in Woodlawn Cemetery. Visitation will take place from 9:00 AM until the hour of service.