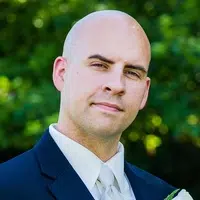 Lawrence J. Pivot Jr., of Fredericksburg, VA, (formerly of Clintonville) passed away unexpectedly at the age of 31 on Thursday, February 8th, 2018.  Lawrence was born on November 24th, 1986 to Larry and Denise Pivot in Boscobel, WI.  In 1993, the family moved to Clintonville.  On June 9th, 2012 he was united in marriage to Katelyn (Anderson) of Clintonville.  He and his wife Katie moved around Virginia and Wisconsin until finally settling in Fredericksburg, VA in 2015.
Lawrence, better known as "L.J.", was a Project Engineer and Coatings Inspector for the Maryland Transportation Authority at the Nice Bridge in Newburg, MD.  L.J. took great pride in his work, where he was known for his quick problem solving.  He took even greater pride in his family, especially his two month old daughter, Emily Rae.  Lawrence was living his dream of being a dad, and was quick to show photos and videos to anyone who asked.  He could make Emily smile and coo at any moment.  Further, L.J. adored his wife, Katie, and dog, Charlie.
L.J. enjoyed many hobbies, the biggest of which was video games.  Gaming allowed him to both relax and spend time connecting with his best friends, many of whom lived in other states.  He also enjoyed cars, 3-D Printing, animals, firearms, camping, cooking, television, home improvement projects, the Green Bay Packers, and spending time with family and friends.  He was a skilled machinist.  Together with his wife Katie, L.J. loved going out to eat and date nights.
His heart was enormous and compassionate, which lead him to always offer a helping hand to those around him.  He was an excellent provider and always put others before himself.  He was witty and could make anyone laugh.
He is survived by his wife: Katie Pivot; by his daughter: Emily Pivot; by his mother: Denise Pivot; and by his in-laws: Raelene Anderson and Paul & Bonnie Knaack.  He is further survived by extended family and countless friends.
He was preceded in death by his father:  Lawrence Pivot; by his maternal grandparents:  Edward and Agnes Phillips; and by his paternal grandparents: Matt and Mattie Pivot.
Visitation will be held at 11:00 AM followed by a funeral service at 12:00 P.M. on February 14th, 2018 at Covenant Funeral Service, 4801 Jefferson Davis Highway, Fredericksburg, VA 22408.
A second service will be held in Wisconsin on Saturday, February 17th, 2018.  Visitation will be held at 9:00 A.M. followed by a funeral service at 11:00 A.M. at Christ Congregational UCC, 70 South Main Street, Clintonville, WI, with a luncheon to follow.  Beil-Didier Funeral Home, Clintonville, is assisting the family.