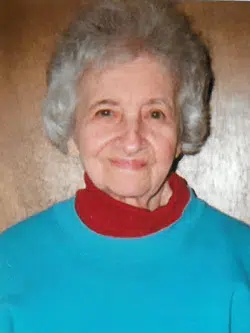 Catherine "Viola" Popke, age 92, of New London, passed away on Wednesday, February 14, 2018 at ThedaCare Medical Center in New London.  Viola was born on January 10, 1926 to the late Atilio and Benvenuta (Colo) Risatti in Irving, Mass.  Viola was united in marriage to Chester Popke.  She was a resident of New London since the early 1950's and was employed at Simmons Company for 39 years.  Viola enjoyed dancing and playing the accordion.  She was a member of Emanuel Lutheran Church in New London.
 Viola is survived by her daughter, Patricia Popke, New London and numerous nieces, nephews and friends.
Viola was preceded in death by her parents; husband; 4 sisters and 2 brothers.
The funeral service for Viola will be held at 11:00 a.m. on Monday, February 19, 2018 at Emanuel Lutheran Church in New London.  Rev. William Heiges will be officiating.  Visitation will take place on Sunday, January 18, 2018 from 4-8 p.m. at Cline & Hanson Funeral Home in New London and again from 9 a.m. until the time of the service at the church on Monday.