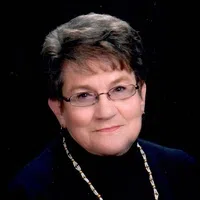 Carol J. Hogen, age 77, of Clintonville passed away Friday, February 9, 2018 at her home.
The former Carol Jean Snyder was born on August 23, 1940 in Durand, Wisconsin, to Earl and Olive (Weber) Snyder.  She grew up in Durand and graduated from Durand High School.  Carol was united in marriage on November 12, 1960 to Allen N. Hogen in Spring Valley, WI.  The couple lived for a short time in Spring Valley and then moved to Port Washington.  She worked as a secretary for some years at Port Washington High School.  In 1973 the couple moved to Clintonville where they owned and operated Big Al's Badger Tap on Main Street for a number of years.  Her husband preceded her in death on July 30, 1992.  Carol was employed for 23 years as a clerk at Pamida in Clintonville.  After retirement, she served for many years as cemetery sexton for St. Rose Cemetery.
Carol was a longtime member of St. Rose Catholic Church, Clintonville, where she sang in the choir, taught Religious Education classes, and sponsored many children over the years.  A main interest of Carol's was writing poetry and she was published in the World Book of Poetry.  In 1990 because of her writing Carol flew to Las Vegas to receive an award presented to her by Bob Hope.  She liked singing and playing the piano; and getting together with her friends, The Golden Girls, every week.  Carol also had a soft spot for animals and all the stray dogs seemed to find their way to her door and she always took them in.  She especially loved spending time with family and friends; and spoiling her grandchildren.
Survivors include three children; Albert (Kelly) Hogen of Amery, WI, David (Tina) Hogen of Clintonville, and Bobbi Sullivan of New London.  There are six grandchildren; David (Lauren) Hogen, Amber (Brian) Petereck, Mike Hogen, Nick Hogen, Brandon (Alyssa) Sullivan, and Shayla Sullivan.  There are three great grandsons; William, Connor, Ben, and soon to arrive a great granddaughter.  There are four siblings; Lyle Snyder of Durand, Faye Johnson of Durand, Norita Colstrum of Durand, and Arnold Snyder of Minnetonka Beach, MN.  She is further survived by nieces, nephews, other relatives and friends, and her faithful Shih Tzu, Benji.
Carol is preceded in death by her parents, her husband Allen, two sisters Darlene Bauer and Delores Shaw, one brother Myron "Junior" Snyder, and twin granddaughters Abigail and Emily Sullivan.
Mass of Christian Burial will be held on Monday, February 12th at 11:00 AM at St. Rose Catholic Church, Clintonville.  Fr. John "Jack" Mullarkey will officiate and burial will follow in the parish cemetery.  Friends may call on Monday from 9:00 AM until time of mass at the church.  Beil-Didier Funeral Home, Clintonville, is assisting with the arrangements.