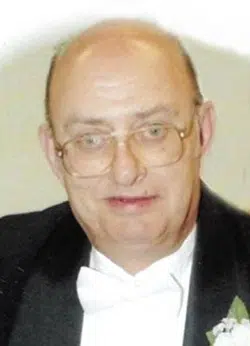 Leonard Leroy Thontlin, age 76 of New London, passed away at Crossroads Care Center in Weyauwega, following a brief illness.  Leonard was born on November 30, 1941 to the late Russell and Florence (Wortman) Thontlin in Joliet, IL.  He was united in marriage to Beverly Hutchison on April 4, 1964 in Manawa. Leonard worked at Prairie State in Illinois and then Neenah Papers for over 30 years, retiring in 1999.  Leonard was an avid Chicago Bears fan.  He was a car enthusiast and loved drawing cars.  He enjoyed Nascar and going to the races at WIR.  Leonard enjoyed the outdoors, gardening and planting trees.  He will be greatly missed by his entire family, including his faithful dog, Jhasta.
Leonard is survived by his wife, Beverly; children, Brenda Thontlin-Mitze, New London, Dan (Holly) Thontlin, Manawa, Tanya Berry (fiancé Robert Draheim), Manawa and Julia Thontlin, New London; grandchildren, Jesse (special friend Trisha), Jaclyn, Joseph, George, Tyler, Hunter and Gunner; great-grandchildren, Kyle and Violet; half-brother, Russell (Kathy) Thontlin, Lockport, IL and sister, Virginia Feltz,  North Fort Meyers, FL.  He is further survived by numerous nieces, nephews, other relatives and friends.
Leonard was preceded in death by his parents; sister, Mary; granddaughter, Tara Thontlin and grandson, Eric Berry.
The funeral service for Leonard will be held at 1:00 p.m. on Monday, February 12, 2018 at Cline & Hanson Funeral Home.  Rev. Bil Sutlief will be officiating.  Visitation will be from 11:00 a.m. until the time of the service on Monday at the funeral home.  Burial will be in Little Wolf Cemetery, Town of Little Wolf.