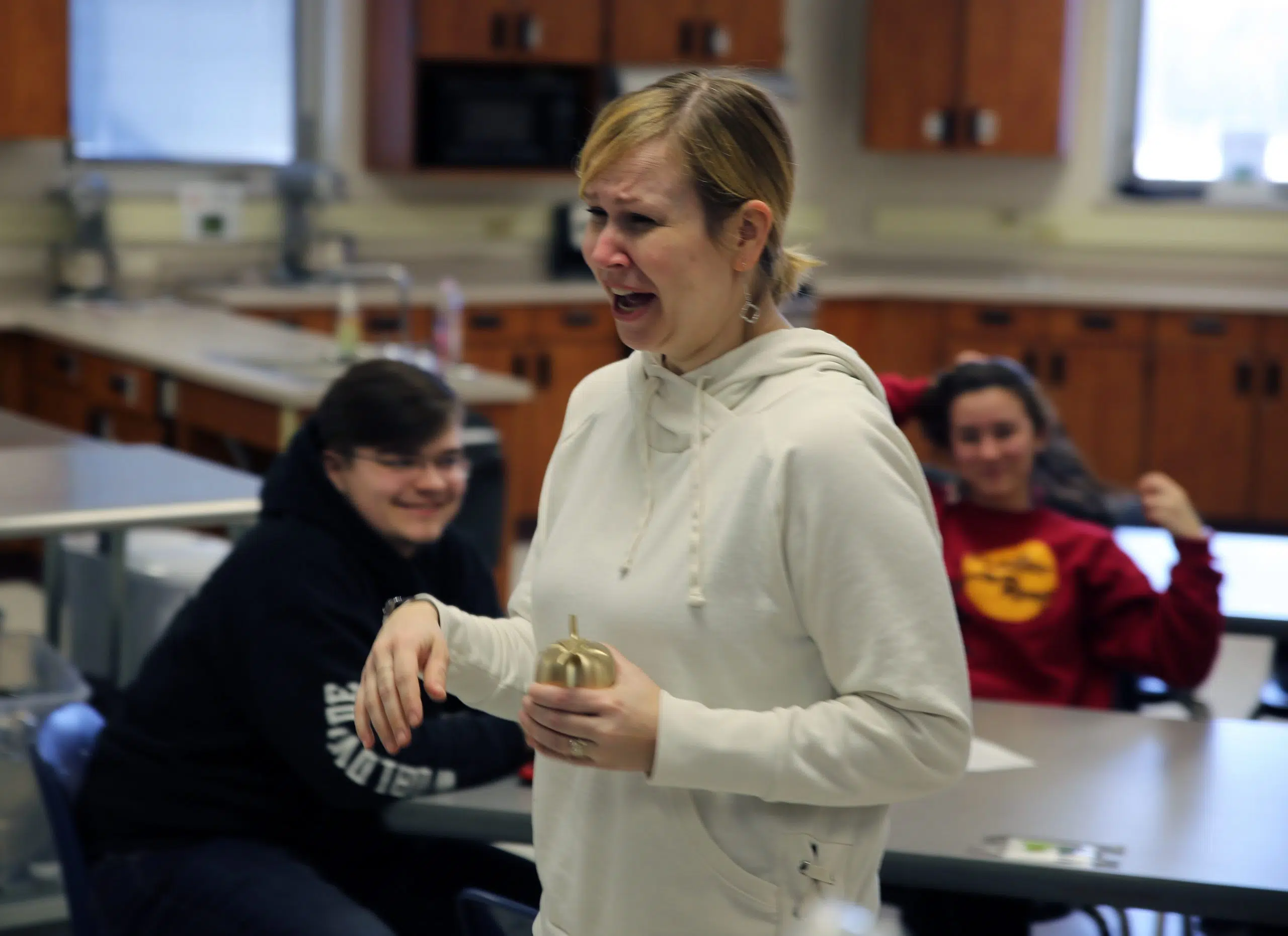 A Pulaski High School teacher is a Golden Apple winner.
Family and Consumer and Science teacher Liz Moehr was awarded the 2018 Greater Green Bay Chamber Golden Apple award on Wednesday morning.  She actually learned of the news when a TV news crew came into her classroom.
"I feel incredibly honored and blessed to receive this Golden Apple," she said. "I still am speechless hours after I was graciously surrounded by award presenters, my administration, and my family."
Moehr is doing what she loves, she said, teaching students life skills they can use in their future careers, whether that be in the foodservice industry or any career that requires communication, literacy, and problem-solving skills that are practiced in FACS classes.
"I am surrounded by phenomenal students who challenge me to challenge them and in the end, we all are better for it. Thank you to the Golden Apple selection committee, my administration, and my amazing fellow FACS teachers. I couldn't be more grateful."
Moehr has taught at Pulaski since 2002.  She is also the advisor for ProStart, which is the National Restaurant Association's student organization.
Each year, the Golden Apple Awards program improves community awareness of the quality of education in the Greater Green Bay area by recognizing high standards of professionalism, leadership and innovation in teaching with the Golden Apple Awards. Seven recipients (individuals and/or teams) are selected annually through a multi-level screening of anonymous applications and personal interviews. Selection criteria are based on the National Board of Professional Teaching standards, which identify the essential knowledge, skills and dispositions expected of experienced, quality teachers.
She is the 41st Pulaski Comunity School District teacher to win a Golden Apple.
PCSD superintendent Bec Kurzynske added, "The Pulaski Community School District is honored that another one of our outstanding educators is awarded a 2018 Golden Apple. Mrs. Moehr exemplifies #RaiderStrong by providing engaging learning experiences both in the classroom and in the community. Congratulations, Liz!"