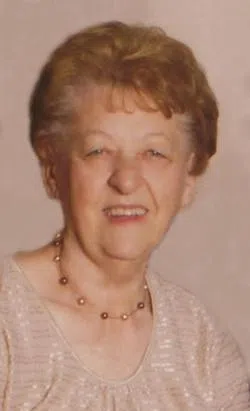 Germaine Marie Hohn, age 84, of Leopolis, passed away on Wednesday, January 10, 2018 in Shawano. Germaine was born in the Town of Richmond on November 26, 1933, the daughter of the late Walter and Anna (Brunner) Kriefall.  On October 10, 1953, Germaine was united in marriage to James Hohn.  She lived in Shawano County all her life and enjoyed quilting, gardening, crossword puzzles and baking wonderful treats, especially cookies.  Germaine was a devoted and very active member of Elias Lutheran Church in Gresham and the ladies aide.  While caring for her home and family she spent many years providing daycare for several area families.
Germaine is survived by: her husband, Jim; two daughters, Diane (Jeff) Klingbeil and Lisa (Mike) Kunschke; seven grandchildren, Christian, Sarah, Danielle, Justin, Shawn, Anthony and Krystal; her sister, Delores Brei of Leopolis; and her brother, Larry Kriefall of Leopolis.
She was preceded in death by her parents and one sister, Sally.
Funeral services will be held at 11:00 am on Saturday, January 13, 2018 at Elias Lutheran Church in Gresham with Vicar Lois Graper officiating. Burial will be in the church cemetery in spring.  Visitation will be held from 4:00 – 7:00 pm on Friday, January 12, 2018 at Swedberg Funeral Home in Gresham and again on Saturday at the church from 10:00 am until the time of the service.